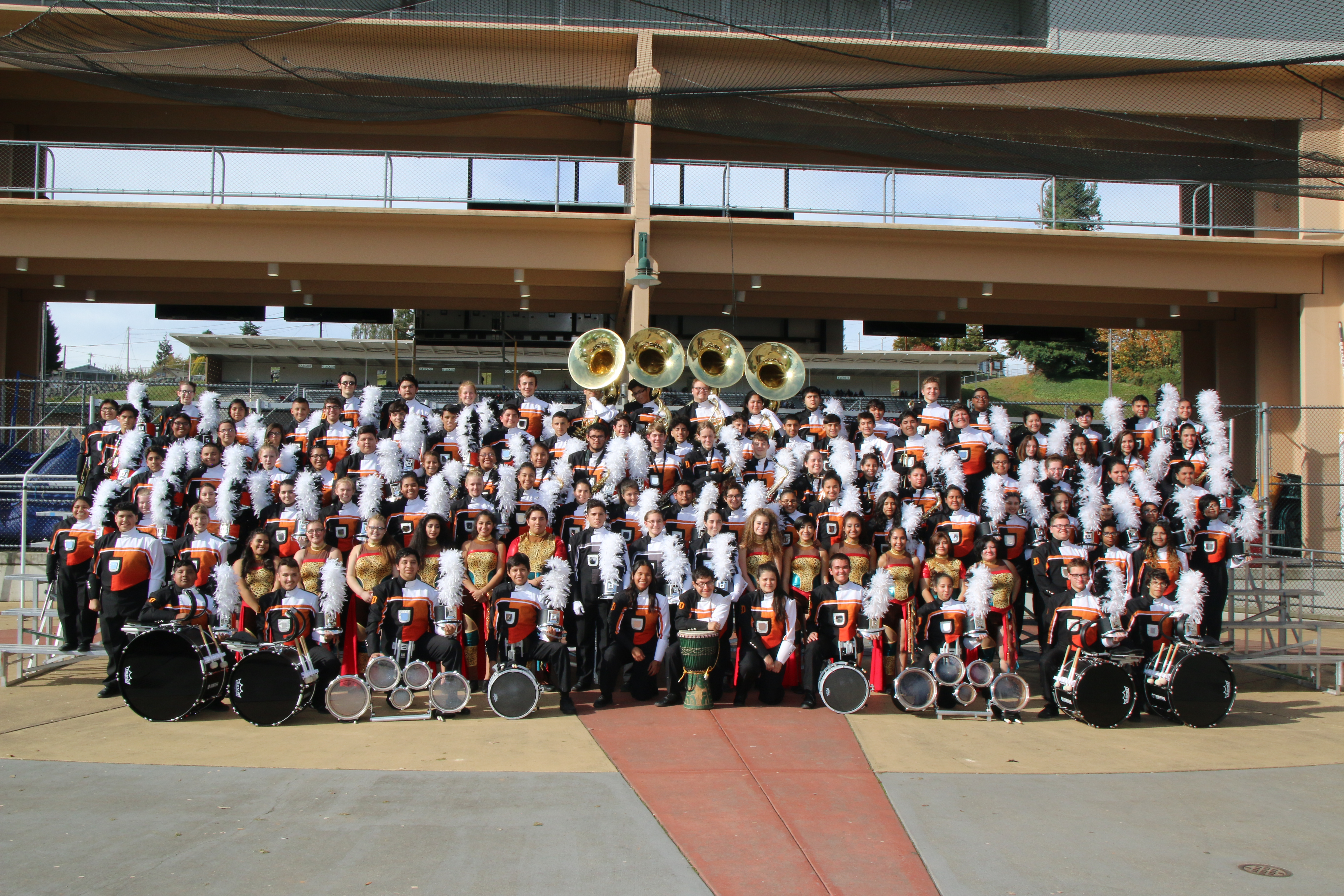 A.C. Davis High School
Yakima School District
Yakima, Washington
Exhibition Division
Buccaneer Band
10:30 AM


Brian Beck, Band Director

Staff (include names and titles):
Brian Beck – Band Director
Ian Monahan – Asst. Director Visual/High Brass
Max Jones – High Brass Instructor
Brian Petilo – Low Brass Instructor
Elliott Westom – Flute Instructor
Martin Obrero – Clarinet Instructor
Jason Talbott – Saxophone Instuctor
Reese Maultsby – Asst. Director Percussion
Chaiya Odle – Front Ensemble Instructor
Elaine Fite – Color Guard Caption Head/Choreographer
Morgan Bedard – Color Guard Creative Staff
Megan Scott – Color Guard Creative Staff
Cece Schuler – Color Guard Creative Staff
Anna Quenomoen – Drum Major/Leadership Consultant
 
 
Awards, Honors and general information about your band:
 
A.C. Davis High School offers a wide range of music opportunities for students including: two jazz bands, three concert bands, a percussion ensemble, two string orchestras, four choirs, and a guitar class.  Over the past few years the Davis Band program has established  a culture of excellence both on and off the field.
 
 
Drum Majors:
Alejandro Perez
Rachel Felix
Kolby Arnold
 
Captains:
Eli Gomez – Brass
Francisco Gonzalez – Woodwinds
Sol Guzman – Guard
Eric Newell – Percussion
 
 
Music Selections:
1. Activate
2. Artificial Connection
3. Overload
 
Featuring music from Anton Bruckner's 4th Symphony and Imagine Dragons
 
 
Show Title:
Mechanized
 
Show Description:
The Davis Marching Band is proud to present our 2017 program Mechanized.  Follow our lone human soloist as she explores our giant factory and also discovers how machines shape our environment and interactions with one another.
 
 



---




Enumclaw High School
Enumclaw School District
Enumclaw, Washington
AA Division
Enumclaw High School Hornet Band
10:45 AM


Benjamin Barker, Band Director

Benjamin Barker, Director
Cheryl Richenburg, Colorguard Instructor
Kaelynn Whiting, Drum Major
Connor Holtz, Drum Captain
Kyle Morgan, Colorguard Captain
Amber Vosk and Icarus DeOsu, Wind Captains

The Enumclaw High School Marching Band presents "Invincible," a homage to the American dream, and the ultimate price which is paid to protect it.

The Enumclaw High School Marching Band would like to thank the brave service men and women who have, and continue to risk their lives in service for our country. They would also like to thank Band and Orchestra Boosters and the community of Enumclaw for their support of the program, and the Enumclaw High School Art Department for their assistance in the creation of the wonderful paintings featured in the field show.




---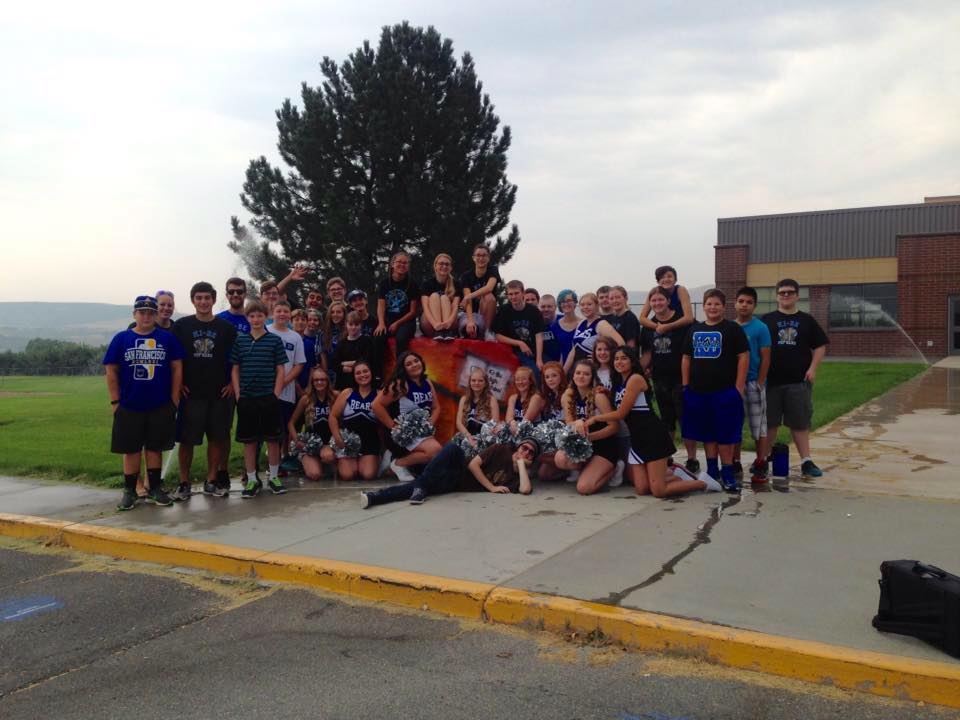 Kiona Benton High School
Kiona Benton
Benton City, Washington
AA Division
Ki-Be Bears Marchng Band
11:00 AM


Skyler Mendell, Band Director

Ki-Be High School and drum majors Eric Campbell and Natalie Sawada present Scheherazade. This program tells the story of a storyteller who must tell a story every night for 1,001 nights to save her own life. We hope you enjoy this world of storytelling and folklore



---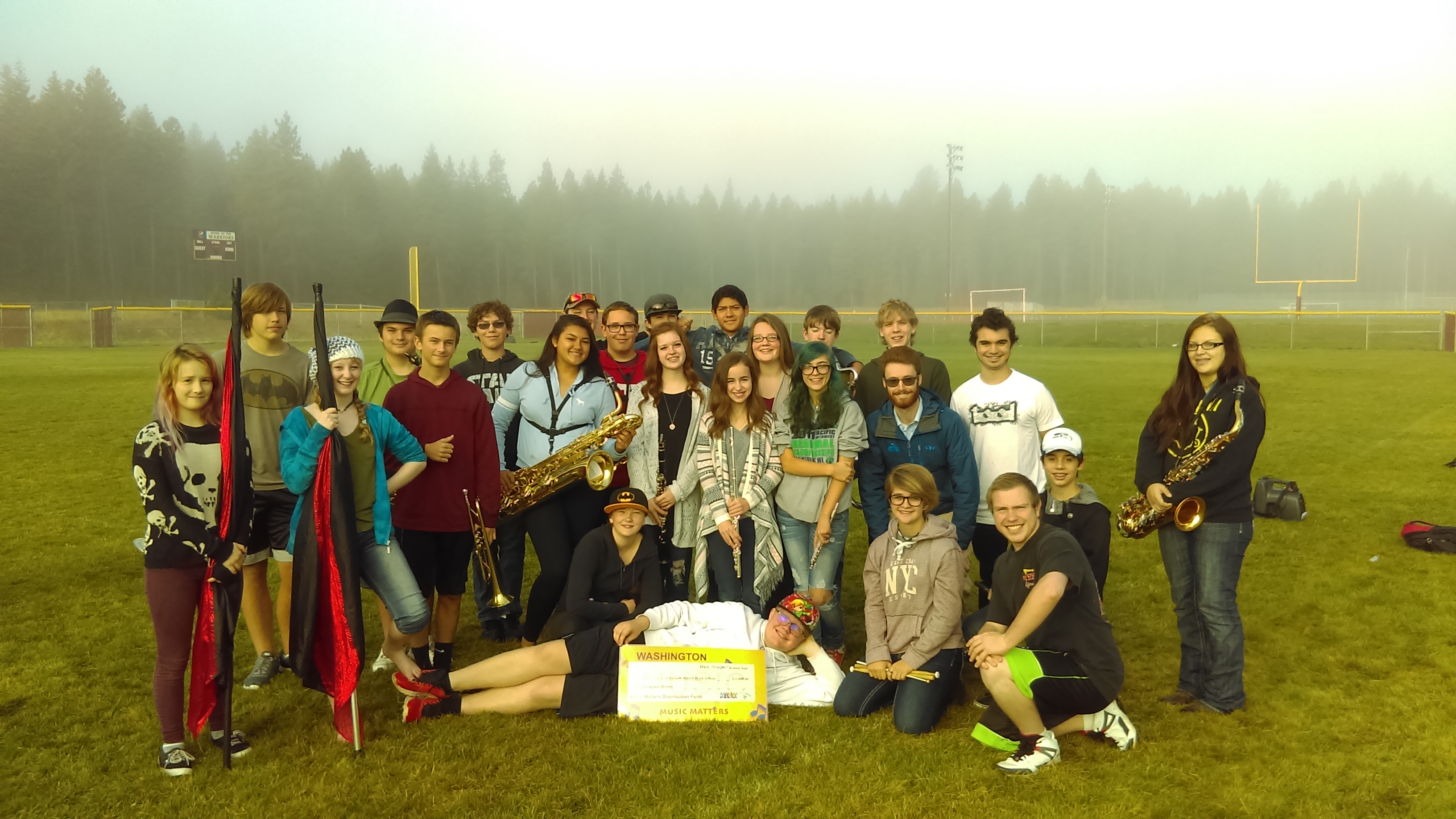 Cle Elum Roslyn High School
Cle Elum Roslyn School District
Cle Elum, Washington
AA Division
Warrior Marching Band and Color Guard
11:15 AM


Nick Maupoux, Band Director

Staff:
Nick Maupoux: Band Director
Warren Murray: Percussion Caption Head
Cece Schuller: Color Guard instructor/choreographer
Sam Kester: Color Guard instructor/choreographer
Ian Monihan: Visual Caption Head, High Brass Instructor
Lucas Cook: Low Brass Instructor
Martin Obrero: Clarinet Instructor
Jacob Krieger: Saxophone Instructor
Elliott Westom: Flute Instructor
Martin Anderson: Visual Consultant

Music by Jeff Chambers and Warren Murray, Color Guard Choreography by Cece Schuler and Sam Kester, Drill by Nick Maupoux, Sound Design by Tim Mitchell.

Awards, Honors, and general info about your band:
Fall 2016: Second Place in "Single A" Division of the Harvest Festival of Bands
Spring 2017: Columbia Basin College "Single A" Division Don Paul Outstanding Music Department Award Winner

Drum Majors:
Zach Bronkhorst
Marrissa Wolf

Captains:
Madi Hegg: Flutes
Morgan Whitemarsh: Clarinets
Dante Del Gaizo: Saxophones
Mason Gray: High Brass
Ryan Webb: Low Brass/Low Reeds
Madison Brownlee: Percussion
Kerensa Monnie: Color Guard

Music Selections: Arrangements by Jeff Chambers, percussion by Jeff Chambers and Warren Murray. Music inspired by James Bond, Mission Impossible, and the Bourne movies.
I. Themes from James Bond
II. Skyfall by Adele
III. Themes from Mission Impossible and the Bourne movies

Show Title: Secret Agents

Show Description: Exploring themes from classic spy movies, The Cle Elum – Roslyn Warrior Marching Band invites you to experience the lives of… Secret Agents.




---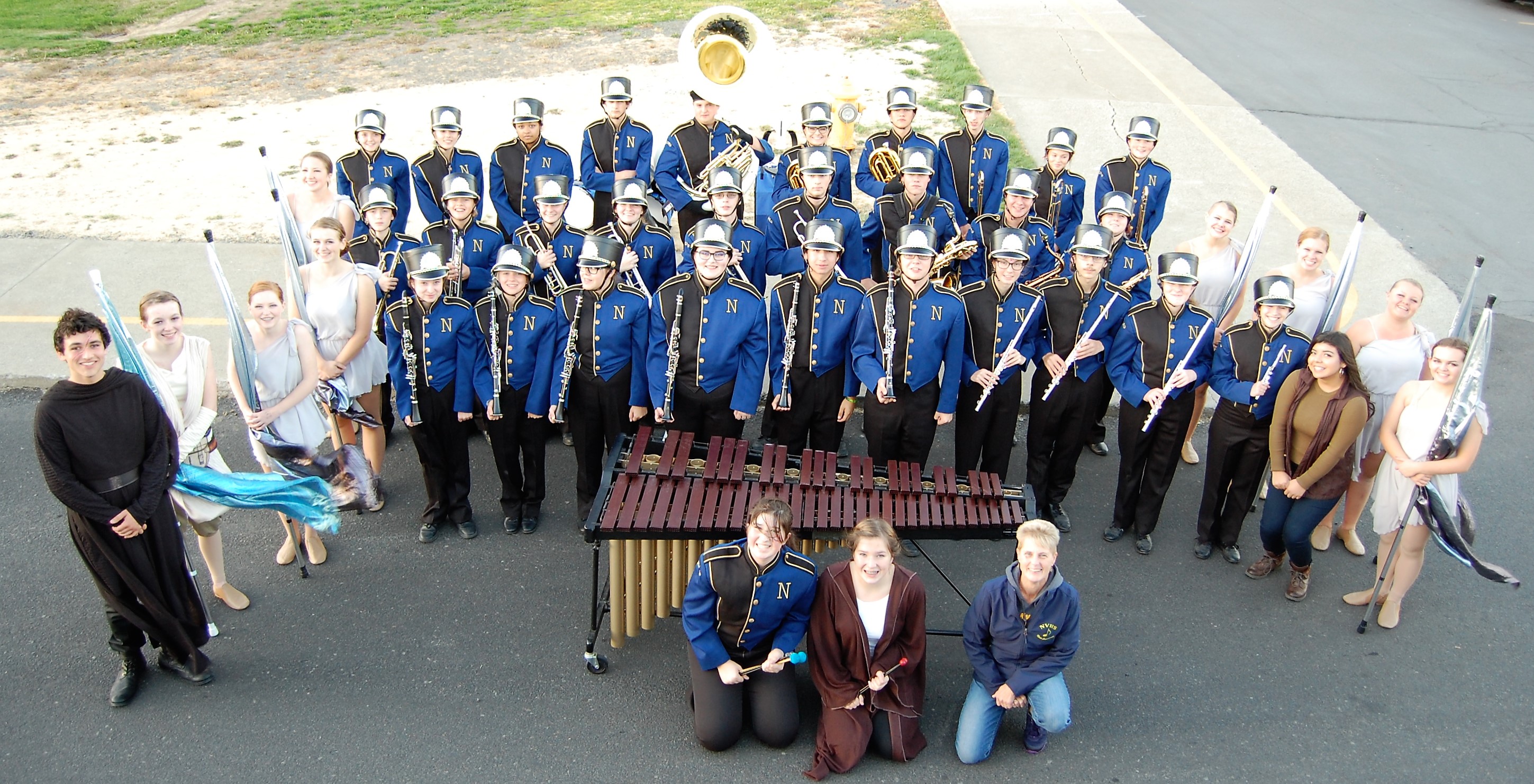 Naches Valley High School
Naches Valley School District
Naches, Washington
AA Division
Ranger Marching Band
11:30 AM


Linda Doria, Band Director

Naches Ranger Band under the direction of Linda Doria
Drum Majors: Nolan Shinn & Neida Mora
Guard Captains: Lindsay Conger & Lauren Reinmuth
Drum Line Captain: Eli Freisz
Drill & Auxiliary designer: Tyler Jones
Marching: Zach Petty
Percussion: Anders Clark
Auxiliary: Amber Hiatt & Hannah Peters

Show Title: The Force Awakens




---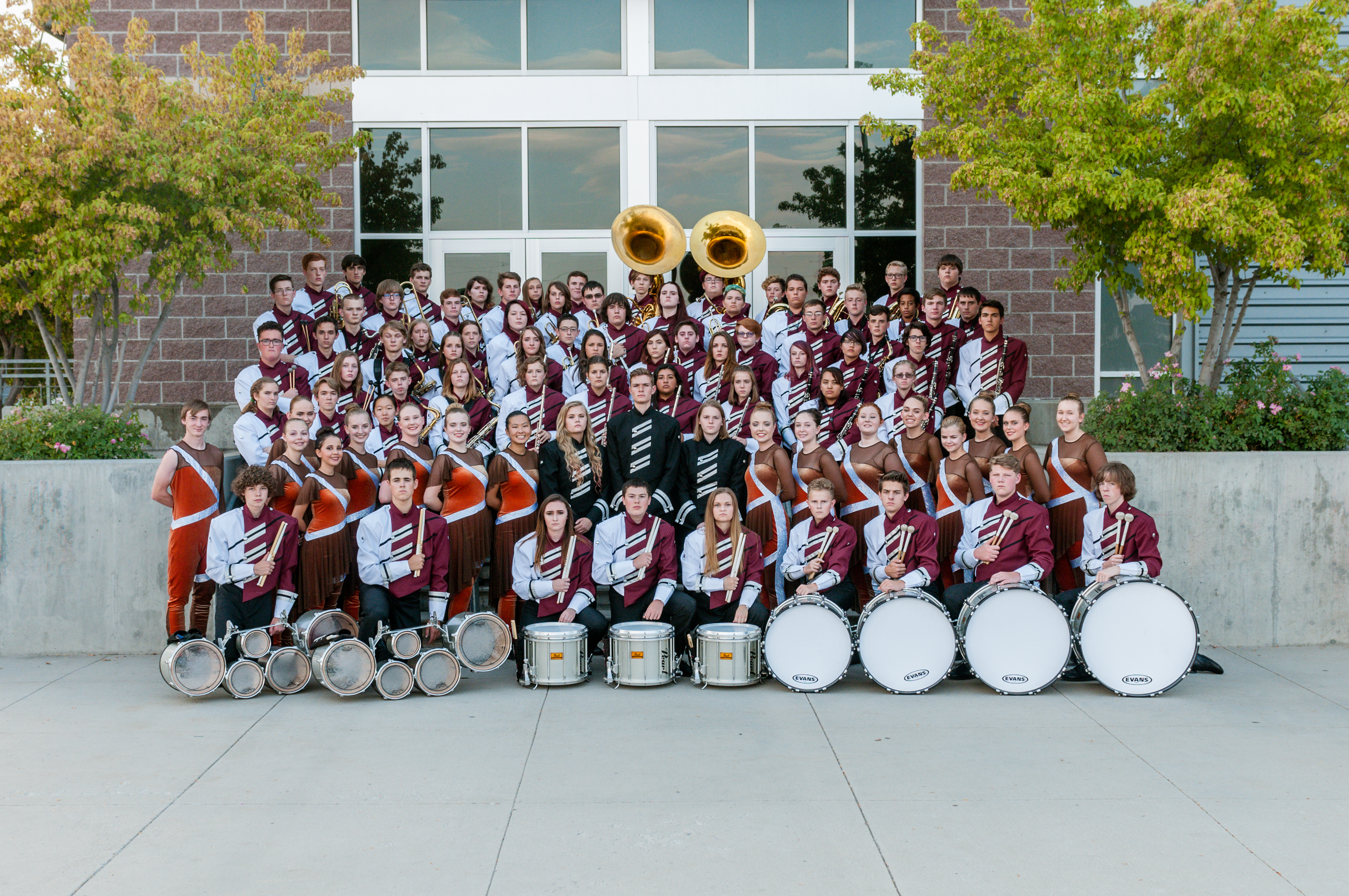 Centennial High School
West Ada School District
Boise, Idaho
AAA Division
Centennial Marching Band and Colorguard
12:00 PM


Brittany Brings, Band Director

Assistant Director: Ryan Worthington
Front Ensemble: Brendan Grzanic
Battery: Matt Clay
Color Guard: Kelsey Cooper

Drum Majors: Sunny Beuerman, Michelle Billman, Michael Edwards

Color Guard Council: Nicole Frederick, Madison Jones, Carmen Wu

Our 2017 show is entitled "'Tis a Gift." It features the music from Appalachian Spring by Aaron Copland.



---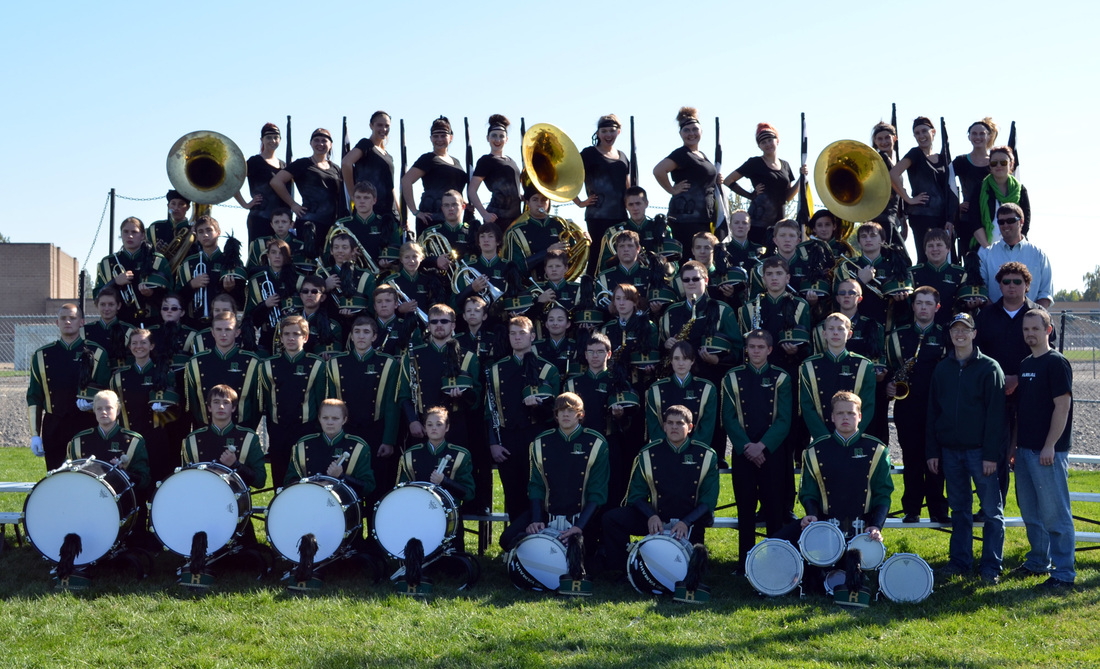 Richland High School
Richland SD
Richland, Washington
AAA Division
Bomber Marching Band
12:15 PM


Jason Rose, Band Director

No man can fully grasp how far and how fast we have come, but condense, if you will,
the 50,000 years of man¹s recorded history in a time span of but a half-century. Stated
in these terms, we know very little about the first 40 years, except at the end of them
advanced man had learned to use the skins of animals to cover them. Then about 10
years ago, under this standard, man emerged from his caves to construct other kinds of
shelter. Only five years ago man learned to write and use a cart with wheels.

Christianity began less than two years ago. The printing press came this year, and then
less than two months ago, during this whole 50-year span of human history, the steam
engine provided a new source of power. 
Newton explored the meaning of gravity. Last month electric lights and telephones and
automobiles and airplanes became available. Only last week did we develop penicillin
and television and nuclear power.

This is a breathtaking pace, and such a pace cannot help but create new ills as it
dispels old, new ignorance, new problems, new dangers. Surely the opening vistas of
space promise high costs and hardships, as well as high reward.

A celebration of the American desire to break down frontiers wherever we encounter
them, and our Richland home as a landmark of scientific and engineering endeavor, the
Richland High School Marching Band presents their show for 2017: The Race.

The space race is recognized as exploration that defined a generation. Trusting that it
could be done, but not sure how to do it, American society came together with the
singular purpose of putting a man o the moon and safely returning him home. These
days we marvel at the challenges others overcame, elevating people of humble
backgrounds to become people we revere.

What are the new challenges we are to face? How will we conquer them? An important
lesson to learn from the Space Race is that ordinary people have extraordinary
capacity.

The Race is presented by Drum Majors Conner Adcock and Adriana Bonner.



---




University High School
Central Valley School District
Spokane, Washington
AAA-S Division
University High School Marching Band and Fanfare Ensemble
12:30 PM


Mark Tietjen, Band Director

University High School Marching Band and Fanfare Ensemble

Staff (include names and titles):
Mark R. Tietjen – Director of Bands, Orchestra and Percussion
Bryan Conrad – Assistant Director
Michael McConville – Visual Director and Design
Julene Osborn – Color Guard Instructor and Choreographer
Amelia Kannapien – Color Guard Assistant
Rick Wallace – Batterie
Renee Honn – Front Ensemble
Minnie Bliesner – Visual Assistant
Nicole Bridge – Visual Assistant


Drum Majors:
Hannah Conrad

Captains:

Music Selections:
Time Machine by Randall Strandbridge and Jason Nitsch

Show Title:
KAIROS – When Eternity Steps into Time

Show Description:
Time is elusive to mere mortal men. We have measured it since ancient time with the sun and the seasons, and as our minds developed so did our timepieces.
Unlike Chronos – regular, measurable, chronological time – Kairos is a period of undetermined time, an opportune and decisive moment when conditions are right for the accomplishment of a crucial action. A watershed moment that affects every aspect, forever more, of the person's life that is defined by quality rather than quantity. It's the experien



---




Wenatchee High School
Wenatchee School District
Wenatchee, Washington
AAAA Division
Golden Apple Band
1:00 PM


Jim Kovach, Band Director

The Rime of the Ancient Mariner

Director: Jim Kovach
Assistant Director: Tim Zanol
Colorguard: Tiffany Hepton and Elvis Garcia
Visual Coordinator: Lisa Zanol
Music: Jeff Chambers, winds; Austin Kovach, percussion
Drill Design: Nick Benson
Guard Choreography: Elvis Garcia

Technical Staff
Flute: Beth Jensen
Reeds: Josh Cozart
Brass: Tim Zanol
Percussion: Austin Kovach, Ashley Hilfer, and Kelsey Lodge
Visuals: Lisa Zanol, Claire Devereaux, and Nick Sowle

Drum Majors
Estela Navarro
Olivia Lancaster
Colorguard Captain
Tommi Cordell

This year's show – THE RHIME OF THE ANCIENT MARINER  
     (in 4 parts)
"We set sail"
"Water, water everywhere, nor any drop to drink"
"The sacred albatross is killed - plague and destruction"
"Redemption"




---




Hanford High School
Richland School District
Richland, Washington
AAAA Division
Falcon Marching Band
1:15 PM


Russ Newbury, Band Director

Show Design: Chris Newbury, Russ Newbury, Loralee Newbury, Kelly Brown
 
Staff:
Choreographers:  Loralee Newbury, Kat Cornell, JaZee Griffin, Anna Newbury
 Colorguard:  Loralee Newbury, Anna Newbury, Hannah Gray, LaNae Monroe, JaZee Griffin, Kat Cornell, Amy Hancock
 Brass-Visual:   Stephen Grindel, Cole Lobdell, Rudy Guidry, Hannah Mowry, Jacob Sanders, 
 Visual: George Zhang, Omar Ibrahim, Gillian McFall, Ash McConn
 Percussion:  Chris Newbury, Kelly Brown, Kade McKeever, Aaron Rausch, Bryce Hansen, Mac Monahan
 
Drum Majors:  Bekah Blanchard, Danielle Johnson, Kyle Evers
 Props: Jeffrey Smart, Logan Thomas, Light post -Dan Wandler with other parents,
 
Show Title:  
 STREET BEATS
·       Streets of New York
·       Broken Road
·       Groove Highway
·       Sesame Street State of Mind
 Show Description:  
The theme for Hanford High Schools 2017 marching band show is titled "STREET BEATS," concept created by Chris Newbury. Watch carefully as graffiti comes to life to the sounds of the city, highlighted by the amazing talent of our trombone soloist, Elijah Hyatt in "Streets of New York."  We thought a little inspiration taken from our muse, the great choreographer "Bob Fosse," would add a little extra pizazz.  From the streets of NYC we traverse the broken road through the "heartland," followed by an original tune from the pen of Chris Newbury (Groove Highway) taking us full pedal-to-the-metal into the classic theme Sesame Street. The HHS 2017 show STREET BEATS should be entertaining and fun for everyone!  
 Musical Selections:  Streets of New York by Alicia Keys, God Bless the Broken Road by Marcus Hummon, Bobby Boyd and Jeff Hanna, Sesame Street by Joe Raposo, Jeff Moss, and Christopher Cerf.
 Other Information:
Hanford High School is proud if its long tradition of excellence in the performing arts.  Band, Choir, Drama, and Orchestra flourish as a result of the amazing support of incredible students, staff, administration, and community partners.  Hanford High School is proud to announce the performance of the Symphony Orchestra as a featured group at the annual "Music For All" Festival in Indianapolis in March 2018.  The Hanford High School Instrumental Music Department boasts four jazz ensembles, four concert bands, percussion class, two string orchestras, symphony orchestra, marching band and pep band (Falcon Funk).



---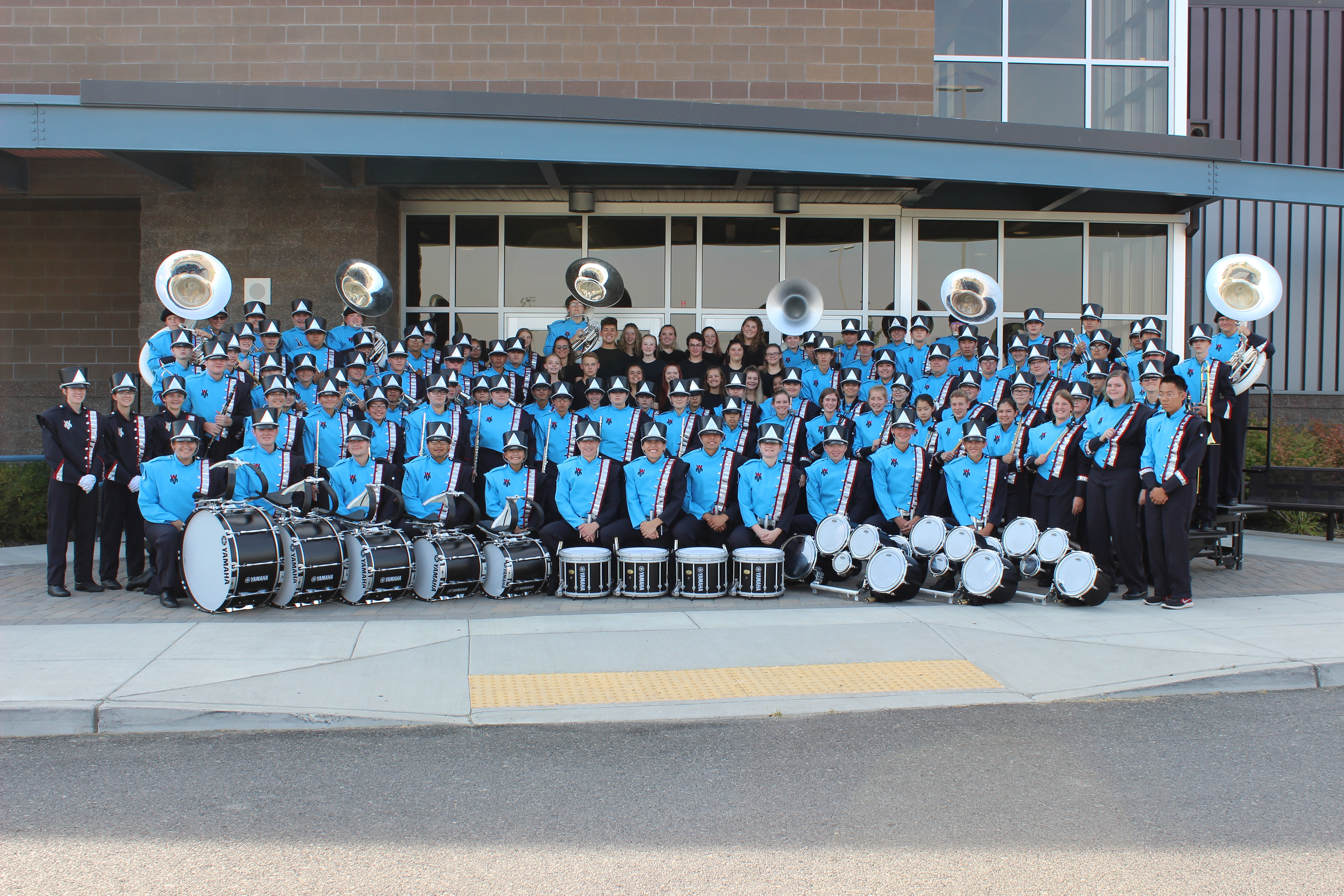 West Valley High School
West Valley School District-Yakima
Yakima, Washington
AAA-L Division
Ram Marching Band
1:30 PM


Tyler Jones, Band Director

Show Title: Your Life's Blueprint

Composer: Jeff Chambers
Drill and Visual Designer: Tyler Jones
Sound Designer: Tim Mitchell
Color Guard Choreographer: Rachel Rose
Program Designer: Jeremy Freisz

Brass Technicians:
Austin Carl
Sarah Vetsch
Dane Holmes
Dillon Alas
Josh Young

Woodwind Technicians:
Emma McGuire
Kristen Opfer
Arthur Sagami

Percussion Technicians:
Tim Mitchell
Aaron Yewman
Bobby Odle

Color Guard Technicians:
Rachel Rose
Emma Tyree

Drum Majors:
Mary Gerhardstein
Morgan Hutton
Lauren Reed

Color Guard Captain:
Alyssa Brandt

Drum Line Captains:
Casey O'Brien
Jon Connel

Horn Sergeants:
Ava Shellenberger
Jaxon Vocana

Show Description:
On October 26th 1967, Dr. Martin Luther King Jr. spoke to students at Barratt Junior High School in Philadelphia. In a speech known as "Your Life's Blueprint", King challenged students to live life with purpose and conviction, to rise above hardship and become the best versions of themselves.



---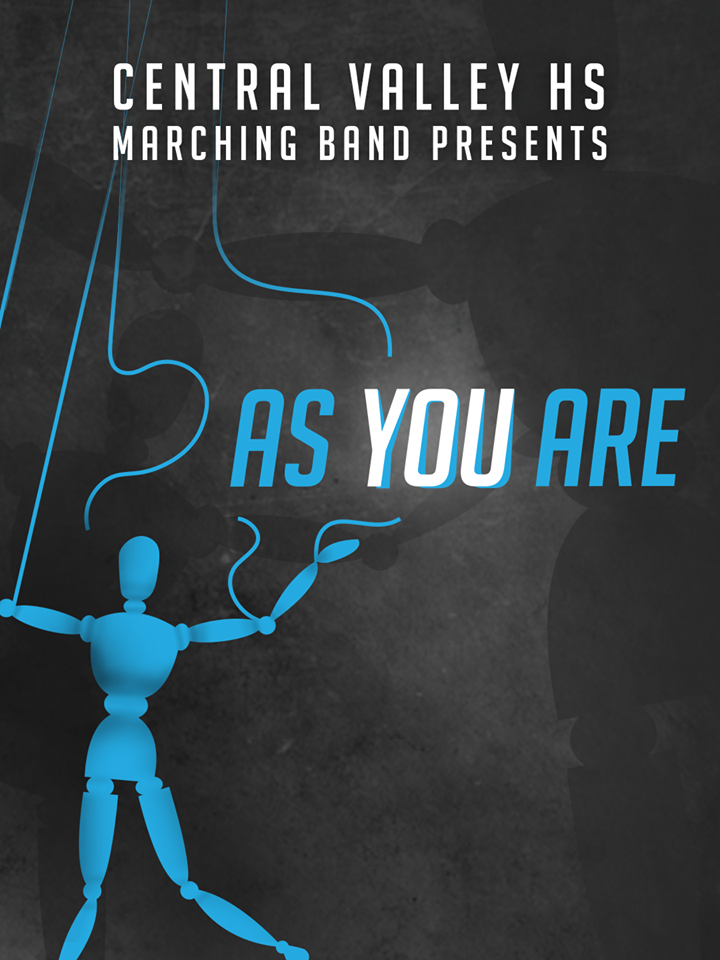 Central Valley High School
Central Valley School District
Spokane Valley, Washington
AAAA Division
Central Valley HS Marching Band
1:45 PM


Eric Parker, Band Director

This year's show is titled, "As You Are." The CV Marching Band's 2017 program puts our students in the role of puppets, cutting the strings of conformity and celebrating their own voice. Accepting yourself as you are: the freak, the geek, the shy one, the crazy one or the little bit of everything one. Using the music of the band, Nirvana our focus this year is on your story. Who are you? How do you conform, how do you wish to be free of those strings, and in the end who or what will you become?

DESIGN STAFF
Lewis Norfleet (wind arranger), Alan Keown, Christ Whyte and Nate Hunt (percussion arrangers), Eric Parker (visual design), Kali Bennet and James Haynes (choreography), BJ Keogh (props).

COLORGUARD STAFF
Kali Bannet, James Haynes, Jess McGinnis, Emily Simpson

MUSIC STAFF
Kris Gist, Steve Friel, Andrew Peltonen, Andy Plamondon, Nick Putnam, Brian Schappals, Ryan Whitehead

PERCUSSION STAFF
Austin Davis, Jared Hunt, Nate Hunt, Rob Lewis, Garrett Newbill

VISUAL STAFF
Martin Anderson, Nick Putnam, Ryan Whitehead

DRUM MAJORS
Hannah Craig and Jack Gregory

MUSICAL SELECTIONS
"Heart Shaped Box," Nirvana
"Danza Final," Alberto Ginastera
"In Bloom," Nirvana
"O Fortuna," Carl Orff
"Come As You Are," Nirvana




---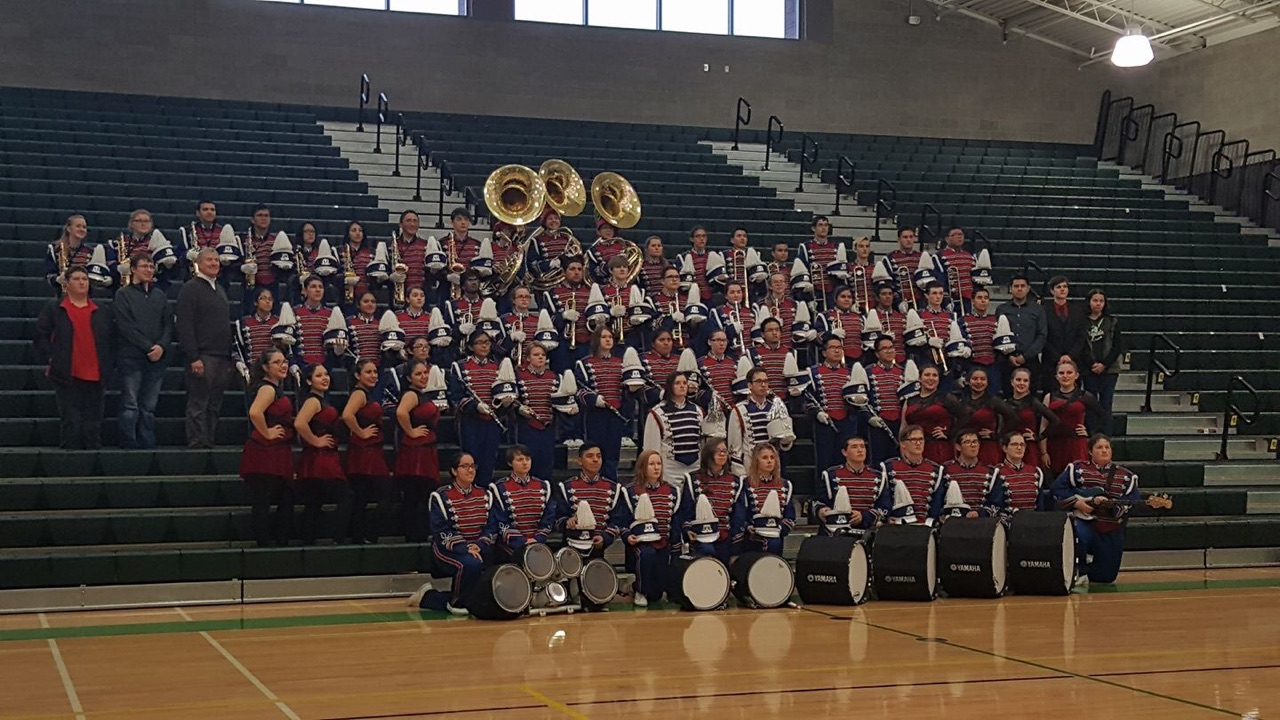 Eisenhower High School
Yakima School District
Yakima, Washington
Exhibition Division
Cadets
2:00 PM


David Walter, Band Director

Eisenhower High School
Yakima School District
Yakima, Washington
Eisenhower Cadet Marching Band

Dave Walter, Band Director
Instructors: Josh Gianola (Percussion), Lindsey Buckley and Falinda Hansen (Color Guard), Angle Saucedo (Assistant Band Director and Visual), Justin Despain (Tpt Coach)
Drum Majors: Renee Diaz and Matthew Braganza
Color Guard: Jordyn Jones and Wendy Avalos
Show title: FIRE and ICE
Original Music: Gary P. Gilroy
Drill Creator and Instructor: Bryan Bailie
Color Guard Creator and Instructor: Teena Bailie
The Eisenhower Cadet Marching Band and Color Guard under the direction of Mr. Dave Walter, will perform Gary P. Gilroy's dynamic "Fire and Ice". During Mr. Walter's tenure the Ike Cadets have enjoyed a vibrant touring history, including New York, San Francisco, Great Brittan, British Columbia, Italy, France, Disneyland and Disney World. This spring the Jazz Cadets will be touring to Reno and the Bay area. The band applauds the Ike parent organization: President Pam Merillat, Vice President Tara Voorhies, Secretary Lavon Miller, Treasurer Tonita Berger, Member's at Large Vicky McIntyre, Deborah Murphy, Shannon Jones and the other outstanding band parents who have helped us with everything we do. We also acknowledge our fantastic principal Jewel Brumley and the Ike administration for their ongoing support. Together students, parents and school staff make our program what it is.
The students, staff and parents are dedicating this season's show to Ashley Tolley (Turner)



---