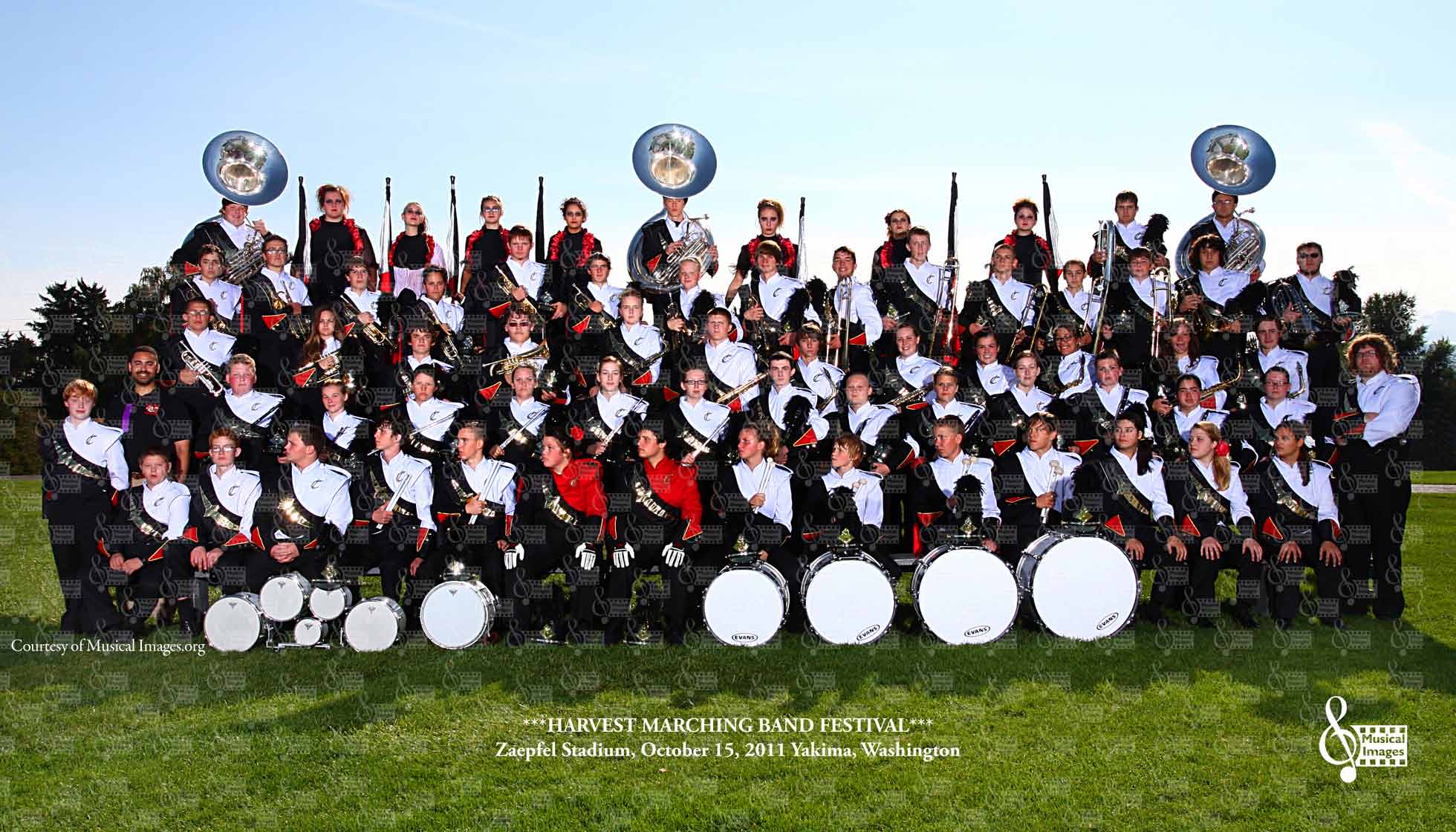 Clarkston High School
Clarkston School District
Clarkston, Washington
A Division
Pride of Clarkston Marching Band and Color Guard
12:00 PM


Bill Legg, Band Director

SHOW & PROGRAM PUBLICATION INFORMATION:

John William's film scores are some of the best known of the last 30 years and Harry Potter is no different. The Pride of Clarkston is excited to present musical selections from the movies, we hope you enjoy the themes as they are presented in this fun, and exhilarating field show production.


Harry Potter Part 1 arranged by Victor Lopez

Harry Potter Part 2 arranged by Victor Lopez

Harry Potter Part 3 arranged by Victor Lopez

Wizard Wheezes arranged by Victor Lopez


Show Title: Themes from Harry Potter


Musical Selections: Another Story (frome the Order of the Phoenix), Nimbus 2000 (from the Sorcerer's Stone), Dumbedore's Army (from the Order of the Phoenix), Obliviate (from the Deathly Hallows Part 1), Ministry of Magic (from the Deathly Hallows Part 1), Wizard Wheezes (from the Half Blood Prince), Hedwig's Theme (from the Sorcerer's Stone), Hagrid the Professor (from the Prisoner of Azkaban), and A Window to the Past (from the Prisoner of Azkaban).

Past Awards, Honors, Accomplishments, and Acknowledgements:

High Percussion AA division, and 2nd place AA division at the 2012 Harvest Marching Band festival in Yakima

3rd Place AA division at the 2012 Southeastern Washington Cavalcade of Bands,

People's Choice award at the 2012 Auburn Veteran's day marching band festival.

Sweepstakes winner at the 2012 Asotin County Fair Parade.

The Pride of Clarkston will be participating in this year's Sounds of Thunder festival in Spokane, Yakima Harvest Festival, and the Auburn Veteran's day Parade and field show festival.

Design Staff:

Matt Hally Drill Designer

Robin Hally Assistant Drill Designer

Nate Barham Marching Caption Head

Robin Hally Marching Caption Head

Music Staff:

Bill Legg Brass and Woodwinds Instructor

Richard Mathern Percussion Instructor

Cameron Layes Front Ensemble Instructor


Guard Staff:

Title

Johann Webb Guard Instructor

Stephanie McCracken Assistant Guard Instructor

Student Leadership: (drum majors, guard captains, etc)

Jacquelyn Garcia Sr. Drum Major

Max Evans Jr. Drum Major




---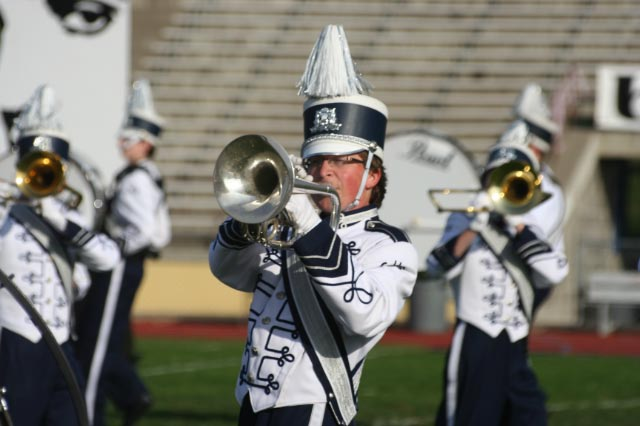 Sultan High School
Sultan School District
Sultan, Washington
A Division
Sultan High School Marching Band
12:15 PM


Jill Sumpter, Band Director

The Sultan High school band is proud to be in Yakima performing today. Sultan High School is under the direction of Jill Sumpter, and assisted by Brian McNaughton. Drum Majors are Jay Olson and Maria McNaughton.
Today they will be performing the music of "James Bond".
The Marching Band would like to thank the Sultan Music Parents for all they do, and the community of Sultan for its' continued support.



---




St. Helens High School
St. Helens School District
St. Helens, Oregon
AA Division
St. Helens High School Marching Band and Color Guard
12:30 PM


Noelle Freshner, Band Director

Show Title: Desert Kingdom
Music by: Andrew Boysen Jr and Brian Balmages
Music Arrangements by: Micah Brusse and Travis Freshner
Marching Instruction by: Noelle Freshner
Percussion Instruction: Devin Bretz and Taylor Long
Guard Instruction: Alisha Garza, Kristen Heckers, and Shelby Hart
Visual Design: JC Caceres
Color Guard Choreography: Alisha Garza and Kristen Heckers
Drum Majors: Kelsie Evans and Leah Cave
Color Guard Captians: Megan Malone and Sierra Amell



---




Bonney Lake High School
Sumner School District
Bonney Lake, Washington
AA Division
Bonney Lake High School Panther Band
12:45 PM


Travis Mills, Band Director

From the Snow Capped Mountains of the Cascades to the rolling hills of Middle Earth. The 2013 Bonney Lake High School Marching Band proudly presents "The Lord of the Rings." The Panther Band will take you on a journey of epic proportions. Inspired by the music of Howard Shore from the Peter Jackson's series of films "The Lord of the Rings," the Panther Band will travel throughout Middle Earth on an epic journey.

Drum Majors: Hanna Anderson and Megan Shultz.
The BLHS Panther Band Staff includes: Travis Mills, Director; Dylan Patrick, Assitant Director; Alex Haack, Color Guard Director; Ryan Mclain, Drum Instructor; Luke DeDominices, Front Ensemble Instructor; Carly Schultz, Front Ensemble Instructor; Chance Maggiacomo, Visual Instructor.

The Panther Band has included numerous awards including first place in their division, best marching, best percussion, and best music.

The BLHS Panther Band would like to thank the Panther Band Alliance, BLHS Panther Band Staff, BLHS Administrators, and the Bonney Lake community for making the 2013 season one for the ages.



---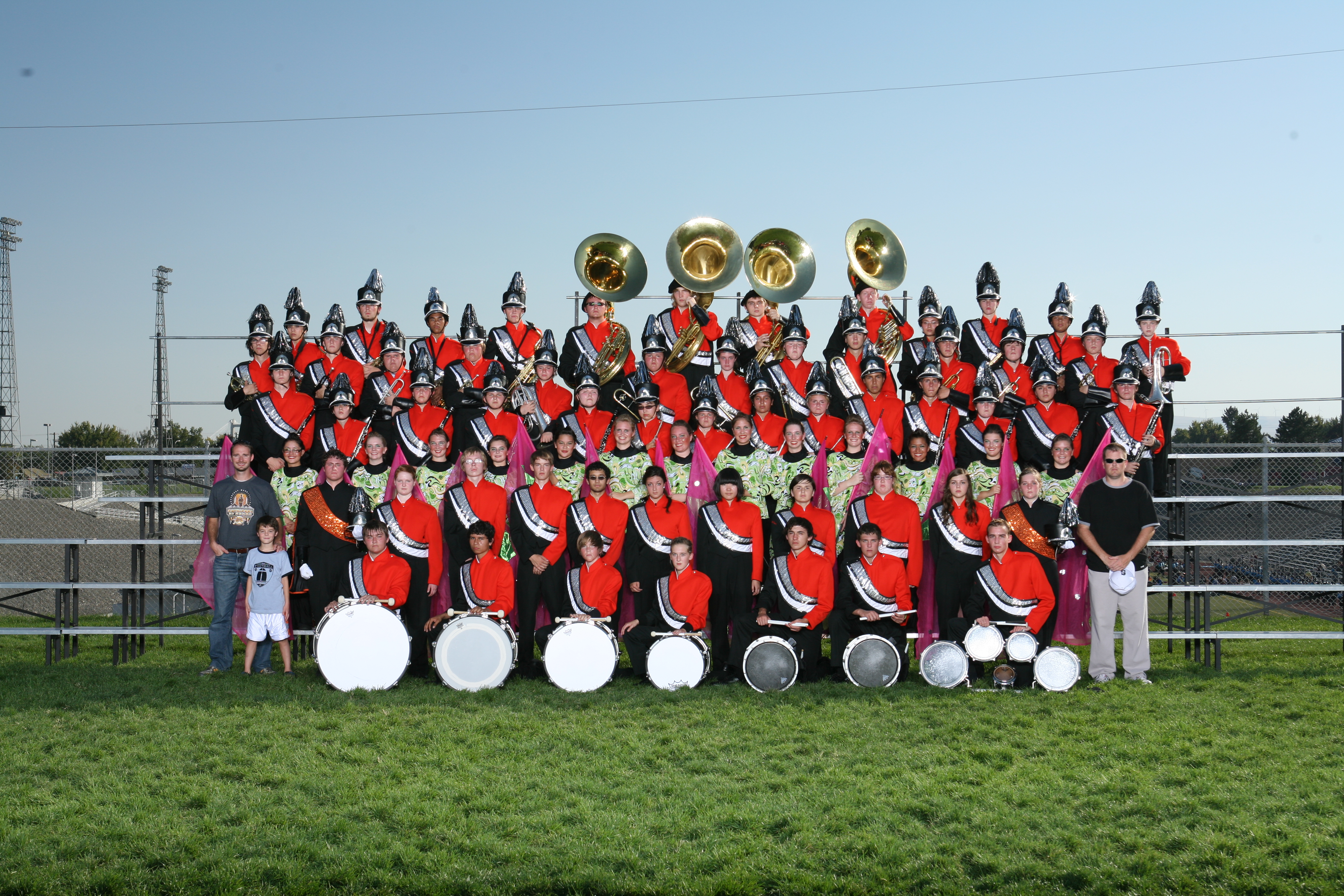 Kennewick High School
Kennewick School District
Kennewick, Washington
AA Division
KHS Pride of the Mid - Columbia Empire Marching Band and Color Guard
1:00 PM


Brent Steinert, Band Director

Design Staff:
Name Title
Josh Peterson Drill
Anna Newbury Choreography



Visual Staff:
Name Title
Anna Newbury
Josh Peterson




Music Staff:
Name Title

Ellie Peterson Assistant Percussion
Brady Sanders Assistant Percussion
Kade McKeever Assistant Percussion
Ben Chambers Assistant Percussion

Guard Staff:
Name Title
Anna Newbury Color Guard
Kara Anderson Color Guard Assistant


Student Leadership:
Name Position
Saban Ursua Drum Major
Ray Porter Assistant Drum Major
Josh Leavitt Junior Drum Major
Cassandra Contraras Guard Captain

Show Title:

"32 Degrees"

Musical Selections:

32 Degrees is a 3 movement work depicting the natural process of freezing.
Freezing to the point of shattering. The show reveals the effects of coming close to the
"Freezing Point" and the natural effect that begins to occur.


Past Awards, Honors, Accomplishments, and Acknowledgements:

2 years 1st Place at the Peninsula Classic in Silverdale.
2 years Best Percussion at the Peninsula Classic in Silverdale.
Best Brass 2012 at the Sounds of Thunder


Additional Comments or Information:

A special thanks to Josh and Ellie Peterson and Anna Newbury for
Their hard work and dedication to the marching activity at
Kennewick High School. We appreciate all you do!




---




West Valley High School (Spokane)
West Valley School District
Spokane, Washington
A Division
"Eagle" Marching Band
1:30 PM


Jim Loucks, Band Director

The West Valley High School "Eagle" Marching Band is pleased to present for your listening and visual entertainment, its 2013 Show, entitled,

"Twisted Keyboard Classics."

Musical selections include:

"Ludwig and Wolfgang"
"Knuckle Concerto"
"Clair De Lune"
"Chop Stix"

Musical arrangements by Jay Dawson
Percussion arrangements by Brian S. Mason
Drill Design by Mitch Rogers
Flag Choreography by Marty Adamson

Staff includes:

Ashley Bell - Visual Instructor
Shawn Anderson - Battery Instructor
Chris Babinski - Front Ensemble Instructor
Larry Pittman - Brass Instructor
Jody Pope - Color Guard Advisor

Jim Loucks - Band Director

Drum Majors include:

Kelly Clinton
Molly Wachtel

Listen closely... is that rumbling you hear? If so, it just may be Mozart and Beethoven "rolling over in their graves" at the sound of their very own... TWISTED Keyboard Classics!



---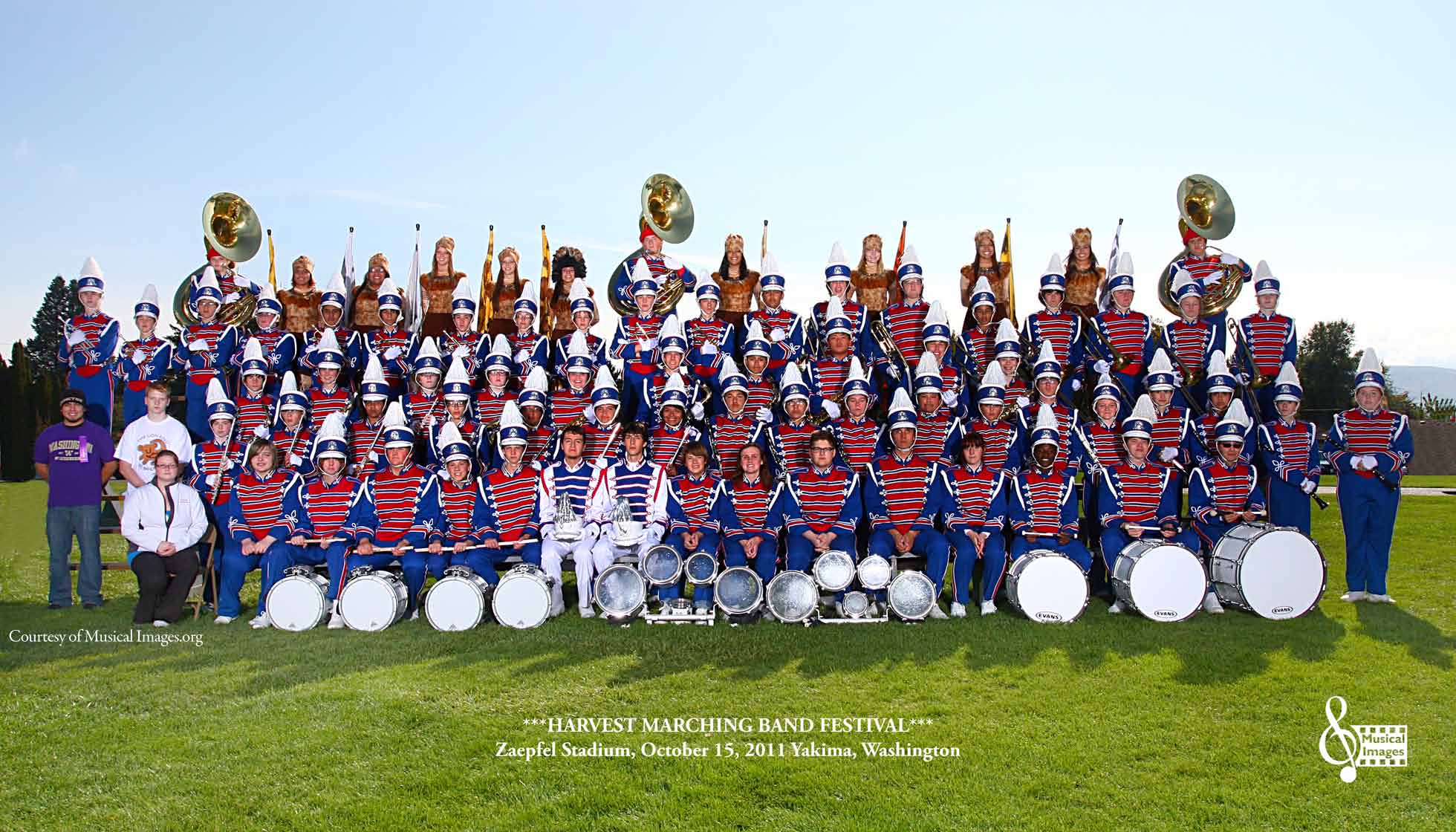 Eisenhower High School
Yakima School District
Yakima, Washington
Exhibition Division
Eisenhower Cadet Marching Band
1:45 PM


Dave Walter, Band Director

Eisenhower Cadet Marching Band and Color Guard
Staff:
Instructors- Josh Gianola (Battery), Kristy Whiting (pit), Angel Saucedo (Color Guard), Michael Tran (Visual)
Drill Creator and Instructor: Brian Bailie
Color Guard Creator and Instructor: Teena Bailie
Drum Majors: Kaylee Lawrence and Morgan Roettger
Color Guard Captain: Ashlynn Miller
Show Title: "LES MISERABLES"
Music Selections: Work Song/At The End Of The Day, I Dreamed A Dream, The Attack On Rue Plumet, One Day More
Band Director - 14th yr @ Ike - Dave Walter ( Big Wally)

The Eisenhower Cadet Marching Bnad and Color Guard under the direction of Mr. Dave Walter, will perform selections from "LES MISERABLES". During Mr. Walter's tenure the Ike cadets have enjoyed a vibrant touring history, including New York, San Francisco, Great Brittain, British Columbia, Italy, France, Disneyland and Disney World. This Spring the Ike Performing Arts will be traveling to Disneyland. The band applauds the Ike parent organization: President Stephani Kinney, Vice Julia Barcott, Treasurer Donna Feltrup, Secretary Sherrie Schwehr and the other outstanding band parents who have helped us with everything we do. We also acknowledge our fantastic principal Stacey Locke and the Ike administration for their ongoing support. Together students, parents and school staff make our program what it is.




---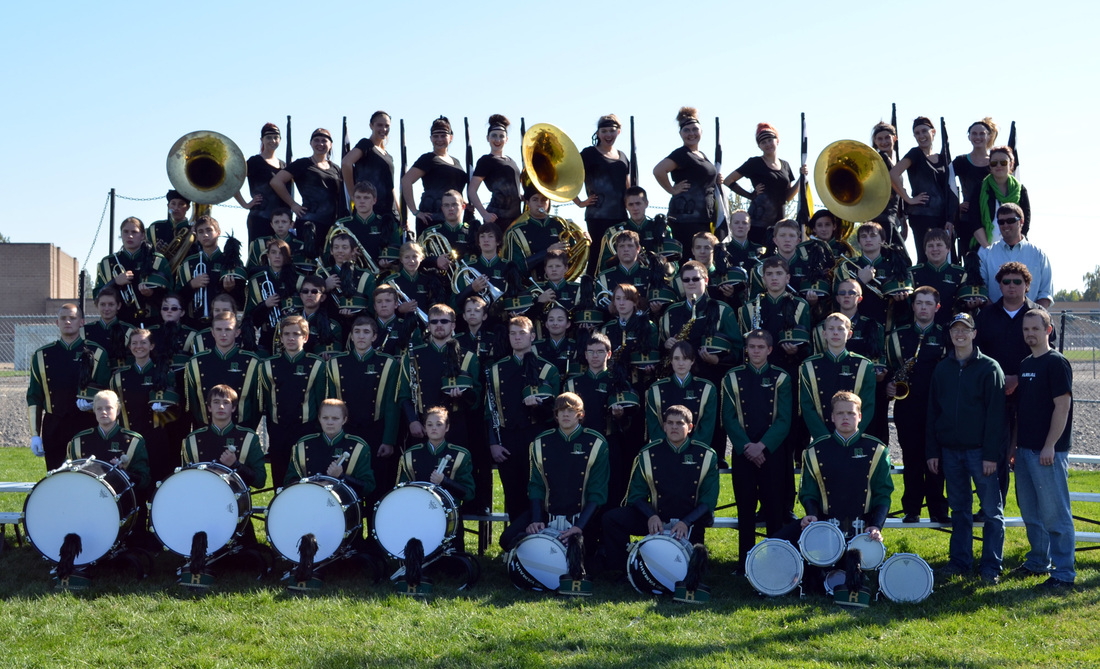 Richland High School
Richland School District
Richland, Washington
AAA-S Division
Bomber Marching Band
2:00 PM


Jason Rose, Band Director

School Name: Richland High

School Address: 930 Long Ave, Richland 99352

Director Name Jason Rose


Staff Names and Titles

Assistant Directors Jeremy Bennett, Peter Blake, and Annie See

Drum Line Coach Chase Waller

Pit Coach Ben Chambers

Color Guard Coach Ariel Giangrande

Choreography Teena Baillie

Show Design Kary Etherington

Music arranged by Jason Rose & Cookie Olaiya


Information about your band. (awards, honors, other information)


The RHS music department is proud of its steady growth in recent years.  Currently, we offer two jazz bands, two wind bands, two string orchestras, three concert choirs, and a jazz choir.  A big thanks to all of the families and community members who devote countless time and boundless energy to our music department!


Drum Majors


Claire Andrus & Denin Koch
Guard Captain Courtney Guffey

Show Title: From the New World


Show Description:

The Symphony No. 9 in E minor, From the New World, popularly known as the New World Symphony, was composed by Antonín Dvorák in 1893 while he was the director of the National Conservatory of Music of America. It is by far his most popular symphony, and one of the most popular in the romantic repertoire. Neil Armstrong took a recording of the New World Symphonyto the moon during the Apollo 11 mission — the first Moon landing — in 1969.

Our show presents the first, second, and fourth movements of the original symphony, re-imagined for marching band, with solos from Tyson Robinson on baritone and Chandler Brown on mellophone.

Drum majors Claire Andrus and Denin Koch and color guard captain Courtney Guffey present From the New World.


Performance Group Size: 82


Expected Number of Trailers and Support Vehicles: 1 big trailer, 3 SUVs


Are you bringing busses? 2 school buses



---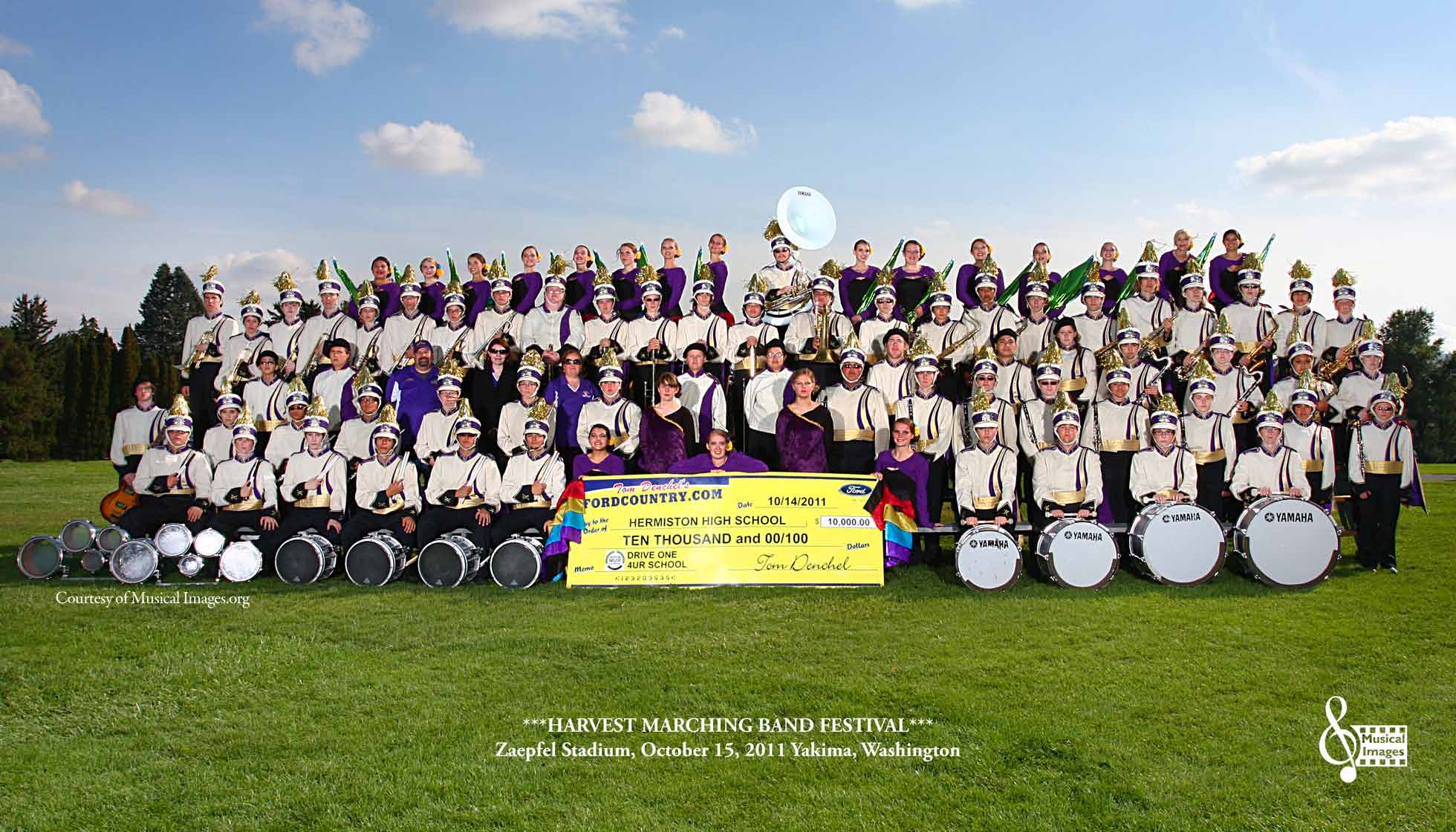 Hermiston High School
Hermiston School District
Hermiston, Oregon
AAA-S Division
Hermiston High School Marching Band
2:15 PM


Paul Dunsmoor, Band Director

Director of Bands – Paul Dunsmoor
Assistant Band Director – Steve Anderson
Colorguard Instructor – Barbara Green
Assistant Colorguard Instructor – Paula Messenger
Drum Line Instructor – Duane Carter
Music Arranger – Russ Newbury and Chris Newbury
Drill and Show Design – Russ Newbury
Field Tech – Miranda Hunt

DRUM MAJOR(S): Megan Born and Kaajal Mishra
STUDENT DIRECTOR: Breeanna Hughes
CAPTAIN(S) Catie Vaughan and Kayla Varady

MUSIC SELECTIONS: Amazon, Rain Forest, Pirahna
SHOW TITLE: Amazon

SHOW DESCRIPTION: This show is meant to depict the many aspects of life in the Amazon Rain Forest. The opener depicts Amazon natives and the darker side of life in the Amazon Jungle. Through primal drumming and wind sounds throughout the band a dark foreboding theme is conveyed as if you are being chased through the jungle. In Rain Forest, the chase is off for now… You are surrounded by beauty and the wonders of the Rain Forest. You are held in awe by the animals that you can see and hear as you venture deeper into the Rain Forest. In Pirahna, imagine that you decide to go for a swim, but you soon discover that you are not alone in the water. There are pirahnas everywhere, and you barely make it out alive, only to find that you are once again being chased by the Amazon natives. Will you make it out…?



---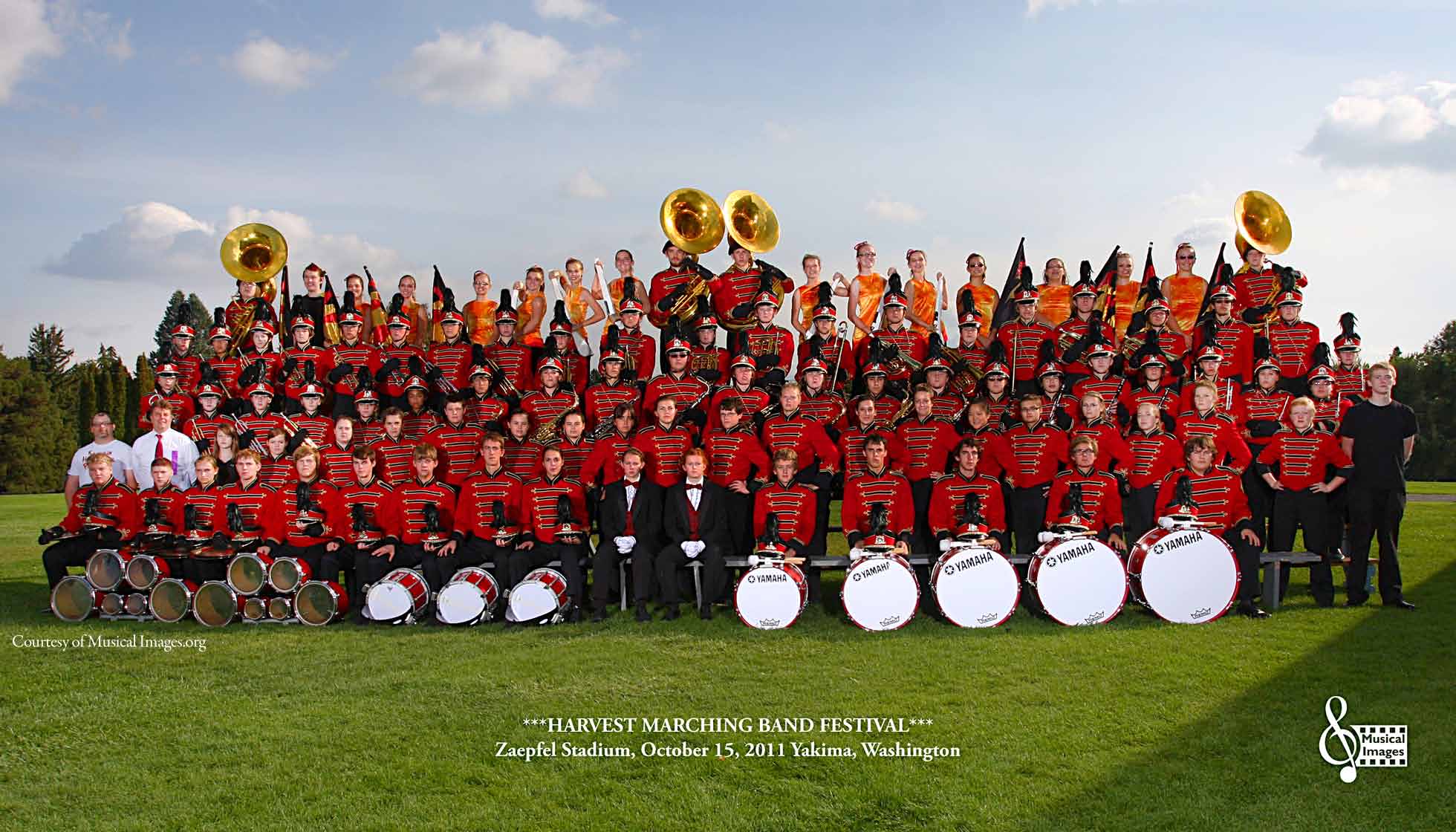 Kamiakin High School
Kennewick School District
Kennewick, Washington
AAA-S Division
Scarlet Tide Marching Band
2:30 PM


Keith Russell, Band Director

The 2013 "Scarlet Tide" Marching Band

Under the field direction of Drum Majors
Ryan Blake and Bonnie Barton

This year's band of 85 members includes:
10 Color Guard, 11 Drum Line, 13 Front Percussion, 22 Woodwinds, 27 Brass, and 2 Drum Majors

The band is under the direction of:
Band Director: Keith Russell,
Drill Design and Visual Consultation: Russ Newbury,
Original Music and Instructional Assistant: Jeffrey Chambers
Artistic Advisor and Percussion Assistant: Jay Colgan,
Percussion Advisor: Amanda Shuster,
Visual/Percussion Assistant: Emmanuel Olaiya
Percussion Assistant: Taylor Edwards
Visual/Brass Advisor: Esteban Zarate,
Visual/Woodwind Instructor: Garth Malin,
Color Guard Advisor: Kristin Phillips,
Color Guard Instructor: Megan Wickham
Color Guard Captains: Tristan Baxter and Kayla Ingalls

The 2013 "Scarlet Tide" presents:
RESILIENCE
In light of recent tragic human events, we have come to realize that naiveté and blissful innocence surround much of our life. Suddenly, we are confronted with difficult, tragic, and often horrible challenges that come to us often at no fault of our own. Through these life challenges we test the mettle of our human spirit, our commitment, our strength. We become better than before, more humble, more flexible, more human. By conquering these trials, we again see hope in the future.
We become RESILIENT.

With original music written by Jeffery Chambers,
Our show depicts three stages of life's experience:
Naiveté
(A blissful, naďve attitude, a childlike, playful, and carefree existence)
Wrath
(A difficult challenge or tragic event that strikes)
Hope
(The sense of resolve and hope experienced after rising to conquer the challenge)


The "Scarlet Tide" would like to thank the Kamiakin Instrumental Music Boosters, Fans, and School Administration for their support! - Keeping the opportunity to express, create and communicate through Music is a strong component of our school experience.

Special Thanks to
Scarlet Level Sponsors: Tony and Kelli Henson Family
Gold Level Sponsor: Northwest Construction Service Inc.
And Brass Level Sponsors: Gary and Bonnie Boehnke
Additional Contributions by: G2 Construction




---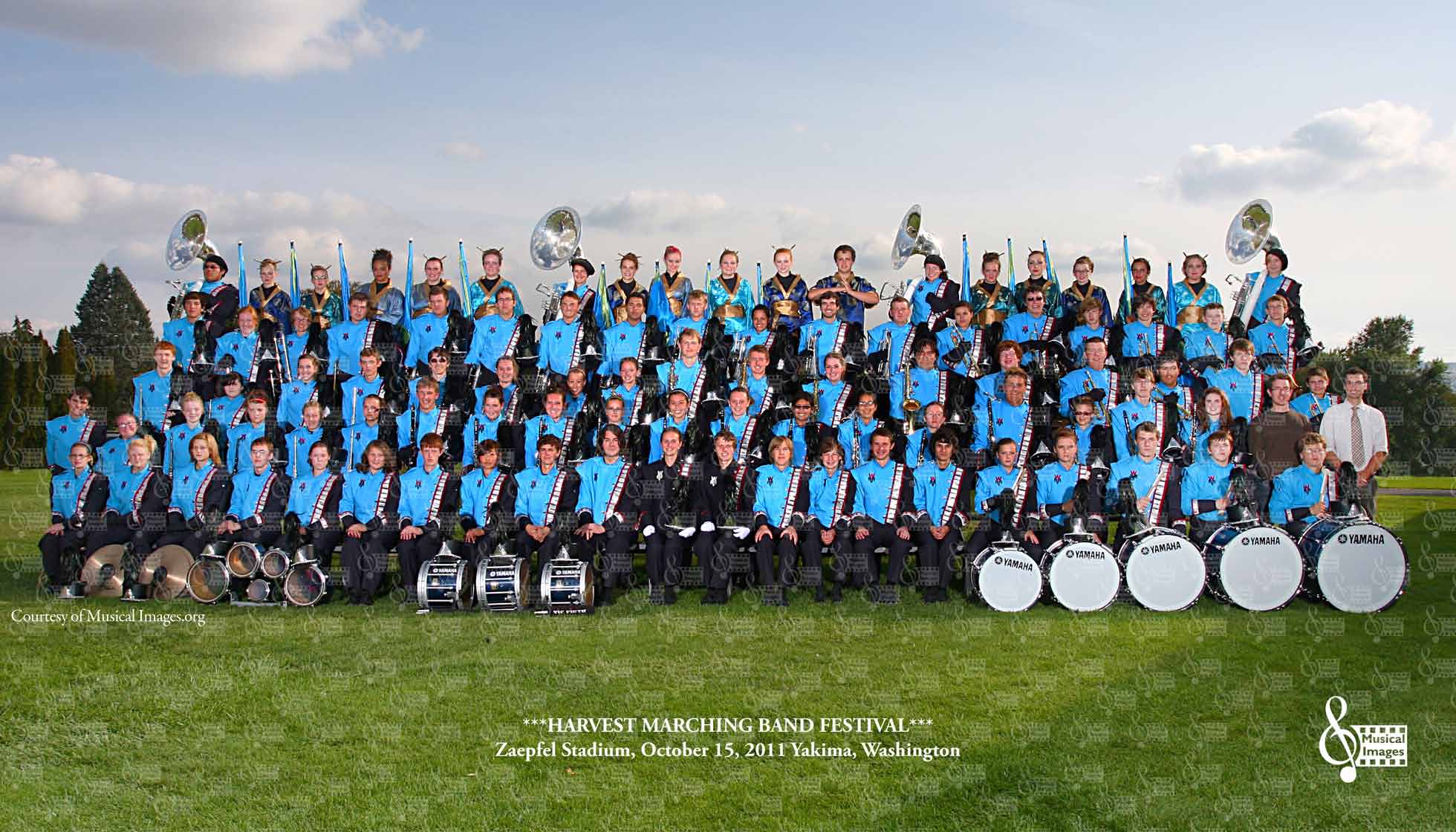 West Valley High School (Yakima)
West Valley School District
Yakima, Washington
AAA-S Division
Ram Marching Band
2:45 PM


Ron Gerhardstein, Band Director

The West Valley High School Ram Marching band is under the direction of Ron Gerhardstein. The high school instrumental music program includes wind ensemble, high school concert band, freshman concert band, percussion ensemble, two jazz ensembles, marching band, pep band, history of jazz, and introduction to music theory. Additional staff for the marching band includes Tyler Jones – visual coordinator; Dollie Dunstan – color guard instructor; MyLisa McGill – color guard assistant; Britt Dahlgrin – percussion instructor; Delayne Doyle – percussion assistant; Robbie Rutherford – visual assistant; and Calvin Fackrell – visual design and visual assistant. The marching band is led on the field by drum majors Ethan Kimzey and Maggie Tenbusch.

West Valley High School instrumental ensembles traditionally earn high ratings at adjudication and competitive festivals in and around the Pacific Northwest. Last April, the WVHS Symphonic Concert Band travelled to the Con Brio Festival in Whistler, BC earning a gold rating. In May of 2013, the jazz program hosted Grammy artist Wycliffe Gordon as a guest trombone artist with our two jazz ensembles. Recent marching awards include 2nd place AAA-large division at the 2012 Cavalcade of Bands and Best Auxiliary. The members of the Ram Marching Band would like to thank our parent boosters, school staff and administration, and our community for their wonderful support of music education in the West Valley Schools.

Show Description
The marching band's 2013 field show, It Never Ends!, is composed and arranged by Gary Gilroy. Movement titles are Without Limits, The Infinite, Perpetual Motion, and I Have a Dream.
Inspiration for the composition and visual design for come from the never ending pursuit of learning and personal growth as we age and mature through life's adventures. Hard work, persistence, family, friends, and faith drive us to better ourselves and pursue life with a sense of purpose and passion. To paraphrase Martin Luther King Jr., "You don't have to see the whole staircase to take the first step." We want to encourage all student musicians to be fearless and keep on stepping toward your dreams!




---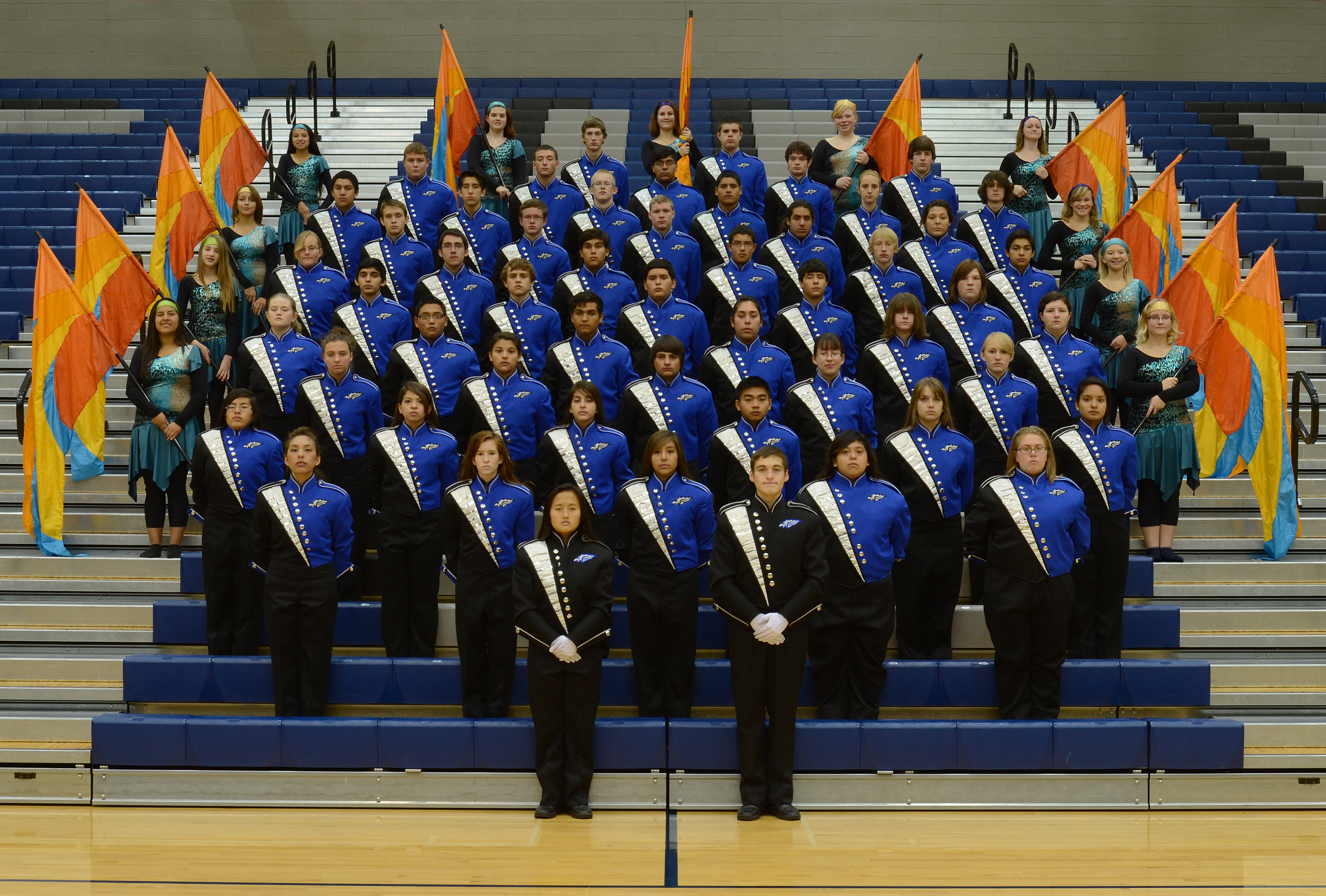 Chiawana High School
Pasco Schol District
Pasco, Washington
AAA-S Division
Riverhawk Marching Band
3:15 PM


Kevin Clayton, Band Director

AWARDS, HONORS, AND GENERAL INFORMATION:
At Chiawana High School we are proud to offer a comprehensive music program that focuses on balance and success in all areas of music education. Whether you are on the marching field, a concert hall, or music festivals throughout the Northwest, Chiawana students represent their school and community with the utmost of pride, commitment, and achievement.

DRUM MAJORS:
Ricardo Rangel
Aron Barajas

COLORGUARD CAPTAINS:
Nayely Garcia

SHOW TITLE:
Labyrinth

SHOW DESCRIPTION:
From Greek mythology, the labyrinth was an elaborate, maze-like structure designed to hold a prisoner with little chance of escape. As the show begins, our curious main character finds herself trapped inside a living labyrinth that leads her through a path of fear, joy, loneliness, hope, and despair. At one point, she seems to have been swallowed by the evil entity. As her journey nears its end, she emerges victorious from the clutches of the labyrinth.

Kevin Clayton Director
Matt Larsen Assistant Director
Terry Lack Music Composer
Russ Newbury Drill Writer
Matt Henderson Percussion Coach
Omar Farias Woodwind Coach
Spencer Blake Brass Coach
Esteban Zarate Brass Coach
Julie Talbott Colorguard Coach
Janelle deVries Colorguard Coach
Sarah Davis Colorguard Coach




---





University High School
Central Valley School District
Spokane, Washington
AAA-S Division
University High School Marching Band and Fanfare Ensemble
3:30 PM


Mark Tietjen, Band Director

Mark Tietjen – Director
Bryan Conrad – Asst. Director, Drill Designer
Mallory Morgan – Visual Coordinator
Michael McConville – Visual Coordinator
Rick Wallace – Battery
Renee Honn – Front Ensemble
Julene Osborn – Color guard Coach

AWARDS, HONORS, AND GENERAL INFORMATION
Cavalcade of Bands 2012
2nd Place AAA Small Division
University High School
Best Visual
Best Percussion
Best Drum Major – Anna Edlund

Pacific Northwest Marching Band Championship
1st Place A Division
Best General Effect
Best Percussion

Harvest Marching Band Festival
2nd Place AAA Small
Best Marching

Puget Sound Festival of Bands
9th Overall
1st Place A Division
High General Effect
High Visual Effect
High Music
High Percussion

SHOW TITLE: "Courage and Fear" - The Tale of Two Brothers

Set on Jay Dawson's music "Invincible", the University High Marching Band and Fanfare Ensemble's 2013 show details the interdependence of Courage and Fear. Opening with the Chinese symbol for Yin and Yang, the show explores the duality of Courage and Fear through the interaction of opposing yet interconnected geometric shapes and body work continuing musically though the interplay of opposing sections and themes. The show features introspective moments of failure, self-doubt and defeat in addition to highlights depicting the four main categories of Courage: Bravery (Physical, Moral, and Psychological), Perseverance, Honesty and Zest.






---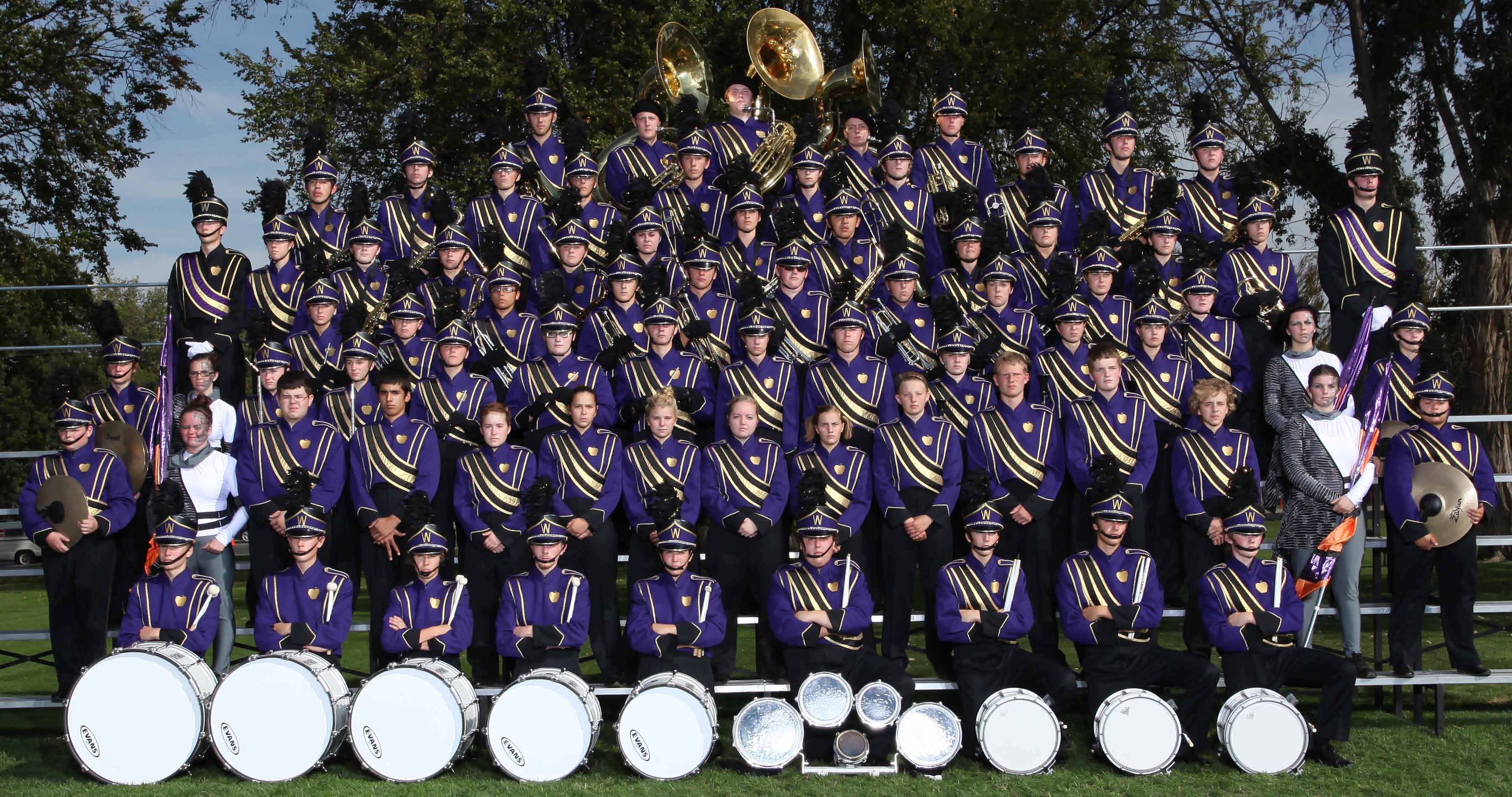 Wenatchee High School
Wenatchee School District
Wenatchee, Washington
AAA-S Division
Golden Apple Marching Band and Auxiliary
3:45 PM


Jim Kovach, Band Director

Director: Jim Kovach
Assistant Director: Tim Zanol
Color Guard Advisor: Minnie Obregon
Visual Instructor: Lisa Zanol
Field Technician: Erin Luebber
Color Guard Technician: Eddie Ibarra
Flute Technician: Beth Jensen
Brass Technicians: Larry Benoit, Ed Simmons
Percussion Technicians: Austin Kovach, Kelsey Lodge

Drum Majors: Madison Kovach, Sadie Wilson, Riley Rosser

Music and drill designed by Russ Newbury

This year, the Golden Apple Marching Band sparks excitement, fear and rebirth in Wildfire. As firefighters work the lines and dig trenches to proactively combat the devastation that fire can cause, flames blaze their path of destruction, obliterating all in their way. A vast, barren space is all that remains. Yet in good time, both nature and humans prevail and a beautiful rebirth allows the beauty of the wilderness to bloom in bountiful glory. The Golden Apple Marching Band dedicates this season to the valiant firefighters who dedicate themselves to protecting others and sometimes bravely pay the ultimate price.




---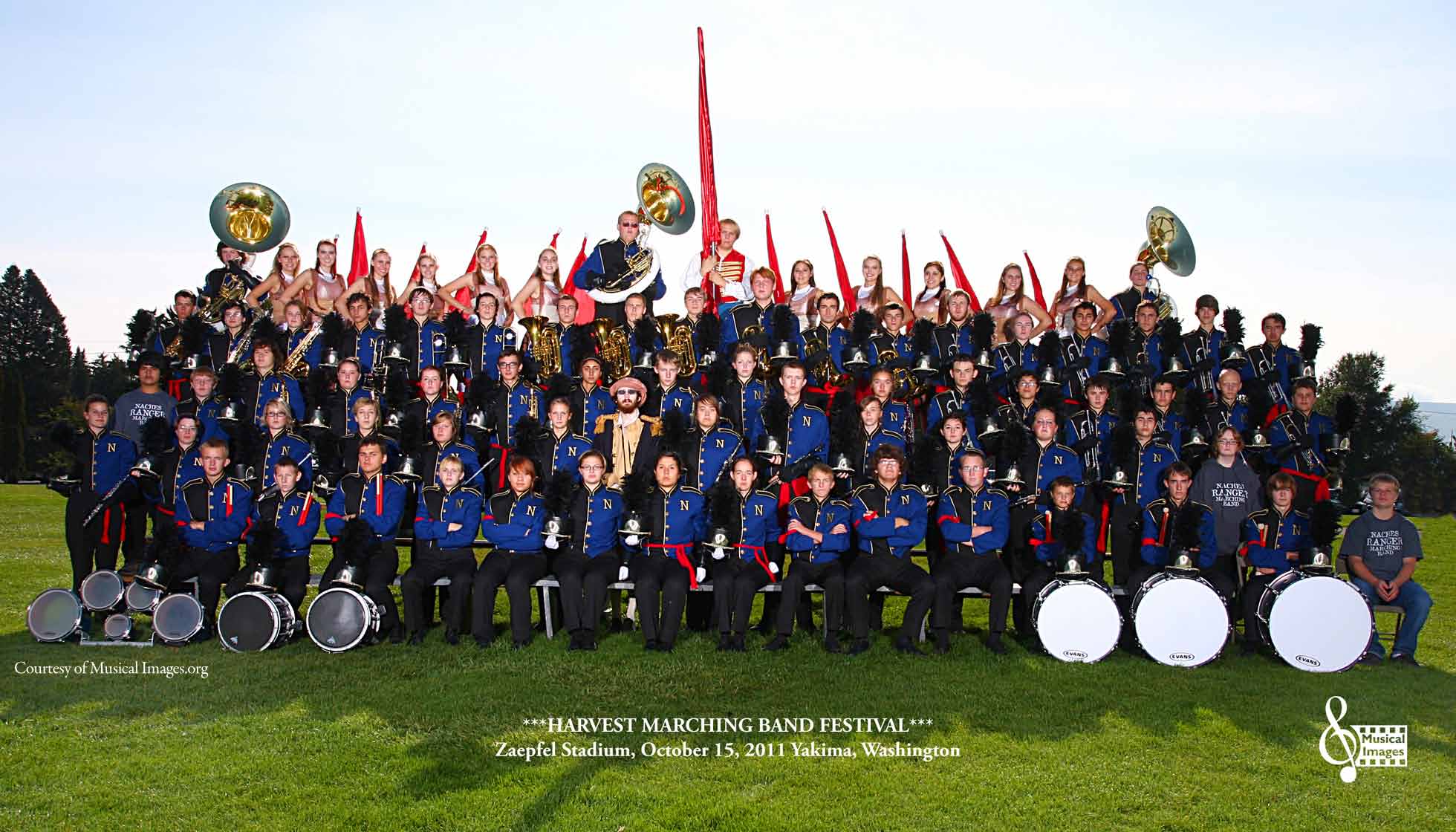 Naches Valley High School
Naches Valley School District
Naches, Washington
AAA-L Division
Ranger Marching Band
4:00 PM


Jeremy Freisz, Band Director

Winds:

Jeremy Freisz – Coordinator/Ensemble Director

Brian Beck – Asst. Director/Visual Design

Ryan Abbott – High Brass

Hilary Rushing – Low Brass

Nick Maupoux – Low Brass

Maggie Whiteman – Flutes

Emily Hurd – Single Reeds

Visual:

Brian Beck – Asst. Director/Visual Design

Nick Maupoux – Caption Head

Todd Cozzocrea

Nick Bledsoe

Brandon Chin

Michael Tran

Karl Koemmpel

Drumline:

Storm Woodyard – Caption Head/High Battery

Mikey Towey – Front Ensemble

Timmy Mitchell – Bass Drums

Guard:

Lorie Holtey –Caption Head

Irene Ignacio

Jake Hardy

Kristen Lipscomb

Cece Schuler


DRUM MAJOR(S):_Morgan Miller and Ben Eilts______________________________________________________

CAPTAIN(S)

Trumpet: Clayton Brester

Mellophones: Neil Campbell

Trombones: Hans Martin

Sousaphones: Allison Lloyd

Flute: Elisabeth Anderson

Clarinets: Cameron Walker and kate Deaton

Saxophones: Mathew Ellenberger and Justin Warner

Drumline: Anders Clark and Andrew Brewington

Front Ensemble: Jenna Brewington

Color Guard: Cassidy Bartley and Mia deVos

MUSIC SELECTIONS:__I. Introduction II. Orion III. Draco IV. Ursa Major

Music arranged by: Russ Newbury

Percussion arranged by: Chris Newbury


Choreography by: Lorie Holtey and Irene Ignacio

SHOW TITLE: Constellations


DESCRIPTION: All stars have a place in the heavens. Let your imagination grow as you start to look into the open sky. Complete the pictures that have been placed before you and discover Constellations.




---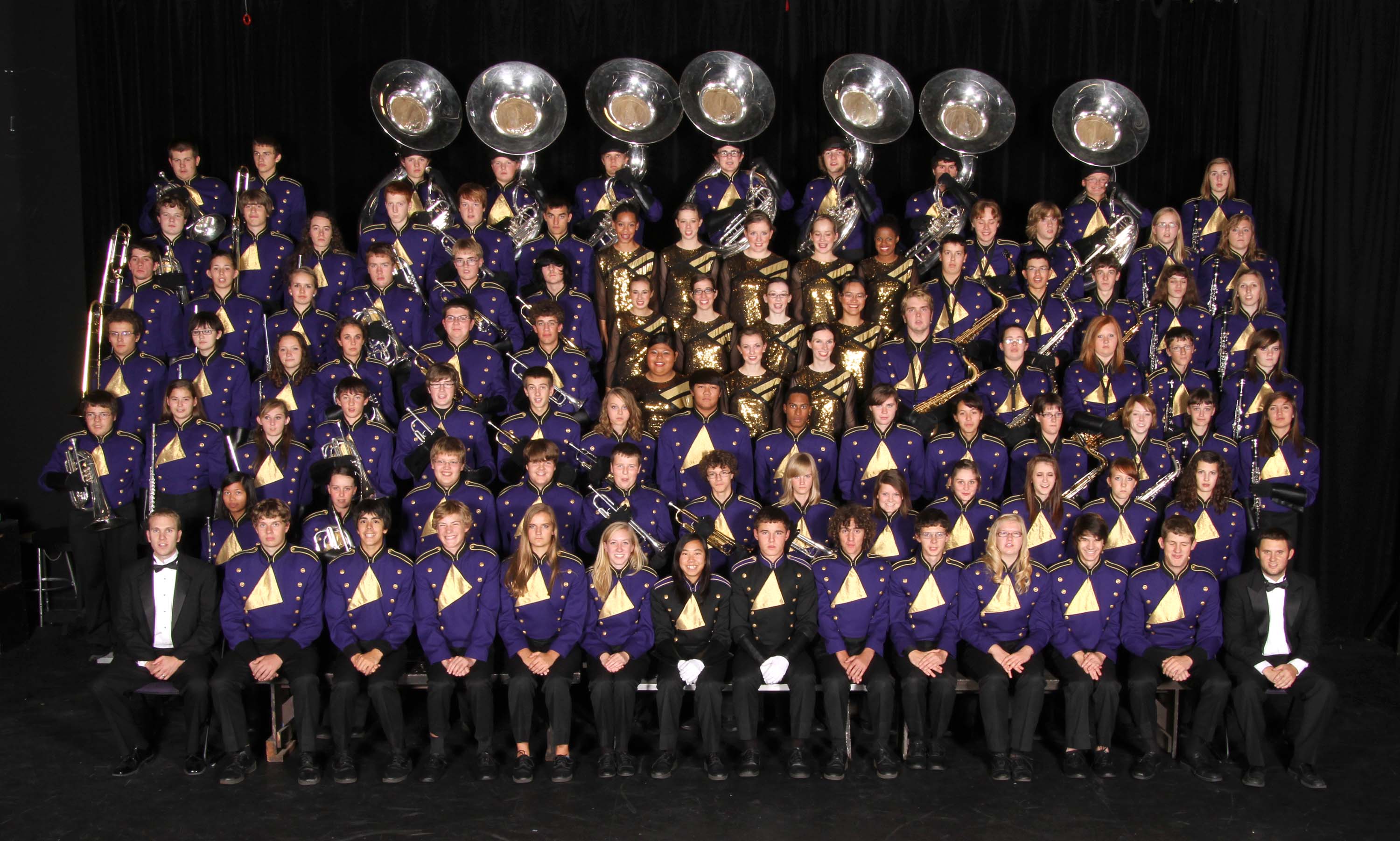 Hanford High School
Richland School District
Richland, Washington
AAA-L Division
Falcon Marching Band
4:15 PM


Kevin Swisher, Band Director

"STORMSCAPE" is an interpretive depiction of classic images and moods associated with storms. Weather formations, motivated musically by the music of Eric Whitacre and some of the classic compositions from cinema of days gone by, whirl and spin to form Hanford High Schools 2013 show written by Russ and Chris Newbury. Hand painted silk flags, created by choreographer Loralee Newbury, are a highlight in the opener 1) "Storm front." The percussion section takes the spotlight in the fast paced whirlwind of 2) "Miss Gulch." 3) "Calm after the storm," along with the music for the opening movement of the show are based upon music from "Cloudburst" written by composer Eric Whitacre and 4) "Singing in the Rain" is simply a fun light-hearted celebration of the joy most of us feel as we embrace the rain from a child's perspective. Under the direction of Kevin Swisher and Chris Newbury, the Hanford Band Program is enjoying both regional and national acclaim for success in the classroom. This year the wind ensemble will be performing in Indianapolis at the "Music for All" National Concert Band Festival and the HHS Jazz Ensemble "I" will be performing at the WMEA All State Music Conference in Yakima. On behalf of the Hanford High band students, staff and parents, we would like to thank all of the show sponsors in our region who help provide a venue for our students to experience live performance opportunities in the visual and performing arts. We hope you enjoy our show, "STORMSCAPE."

Kevin Swisher - Director
Chris Newbury - Director/Percussion
Loralee Newbury - Color Guard
Kristin Swisher - Color Guard
Anna Newbury - Color Guard
Amy Hancock - Color Guard
Dillon Miller - Brass and Winds
Stephen Grindel - Brass and Winds
Peter Blake - Brass and Winds
Tyler Salyer - Brass and Winds
Emmanuel Olaiya - Battery
Tony Braccia - Front Ensemble
Eluid Ayala and Heidi Hanes - Percussion Assistants

Drum Majors are Brooke Patton and Trevor Shibley
Horn Sargent is Hannah Mowry
Guard Captains are Rachel Moore and Hailey Slone



---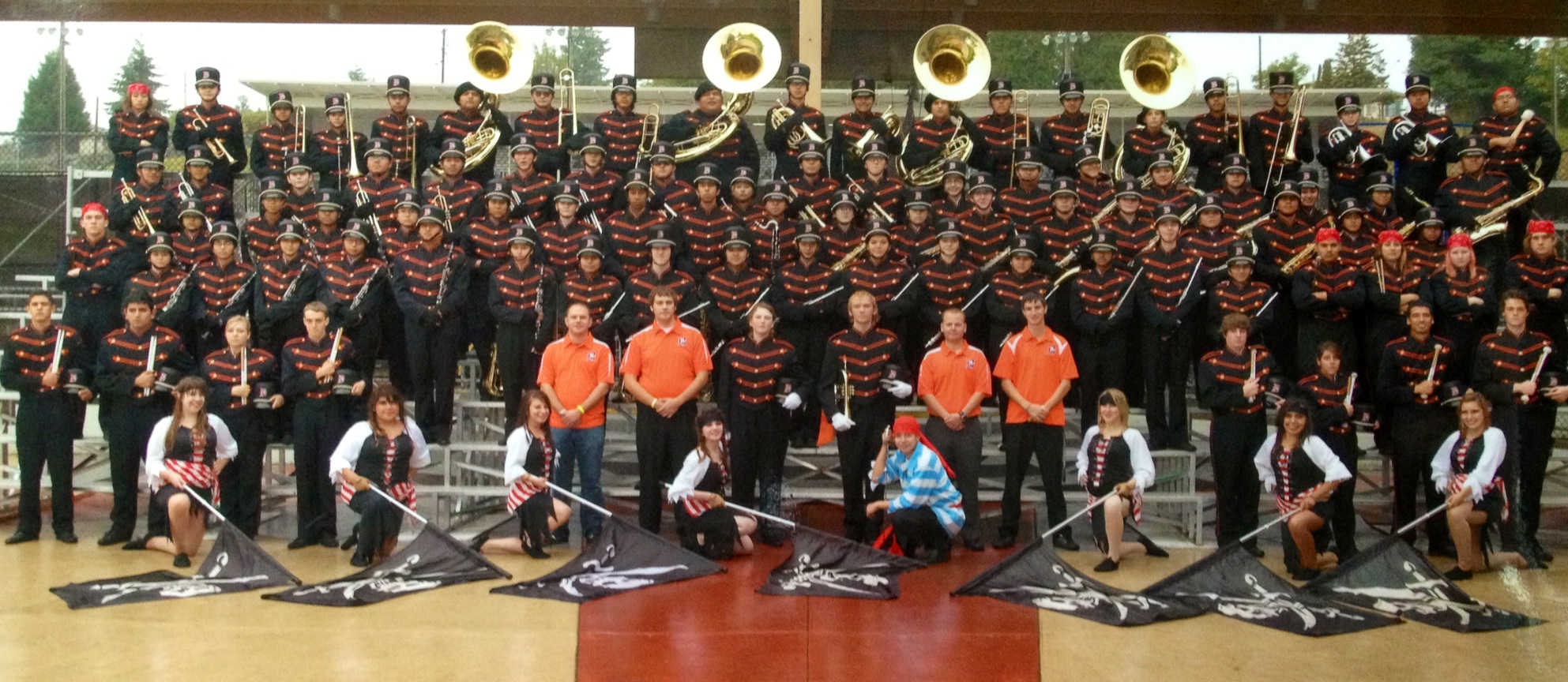 A.C. Davis High School
Yakima School District
Yakima, Washington
Exhibition Division
Buccaneer Marching Band
4:30 PM


Jon Conrad, Band Director

Jon Conrad, Director of Bands
Robert Nelson, Assistant Director (Marching Visual)
Diane Davey, Assistant Director (Color Guard)
Erik Peterson, Assistant Director (Drumline)
Jacob Garland (Front Ensemble)
Cesar Covarrubias (Percussion)
Jill Clark (Color Guard)

The Buccaneer Marching Band is proud to present their 2013 show titled "INNOVATION."

"Innovation" explores the inspiration of some of the great innovations of modern times. From the metronomic pulse of the assembly line to the illumination of light, "Innovation" draws energy from the sights and sounds of the industrial age.


Musical Selections:
Foundry by John Mackey
Dusk by Steven Bryant
Piranha by Russ Newbury

2013 Sunfair Parade Champions
2012 Puget Sound Festival of Bands: 3rd Place
2012 Tumwater Marching Band Festival: 3rd Place
2012 Cavalcade of Bands: Best Auxilary
2011 Sunfair Parade Champions


Thank you to our wonderful Band Boosters.
Please visit us at http://www.acdavisbands.com



---