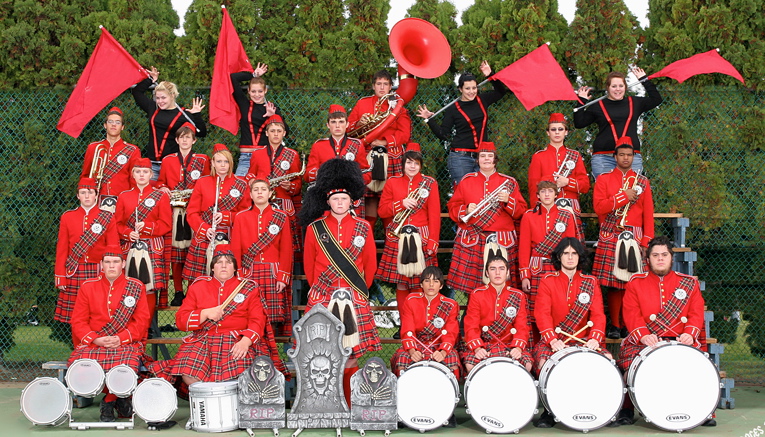 Highland High School
Highland School District
Cowiche, Washington
A Division
Highland High School Scottie Marching Band
10:00 AM


John Straehle, Band Director

Drum Majors: William Packard and Damon Alvarez
Color Guard Captains: Samantha Churchill and Taylor Gano
Battery Captain: Matt Wisnowski
Band Director: John Straehle
Color Guard Instructor: Traci Udell
Marching, Visual Instructor: Victor Pelley
Drum Instructor: Damon Alvarez
Music: Paul Murtha
Drill: Paul Cook

This year's production is called "Blues Brothers: Scotland Tour 2009". Music selections are: "I Can't Turn You Loose", "Soul Man", "Flip, Flop and Fly", "Soul Finger", "Think", and "I Can't Turn You Loose Reprise". The Scottie Marching Band has received numerous awards over the past years, placing 3rd in the "A" Division last year at Harvest and 1st in this years Yakima Sunfair Parade. This is Highlands 8th year in competitive marching. Highland high school is a WIAA "1A" classification with 238 student's grades 10-12.

The band and color guard would like the booster group, band parents and communities of Cowiche and Tieton for their continued support of the music program.




---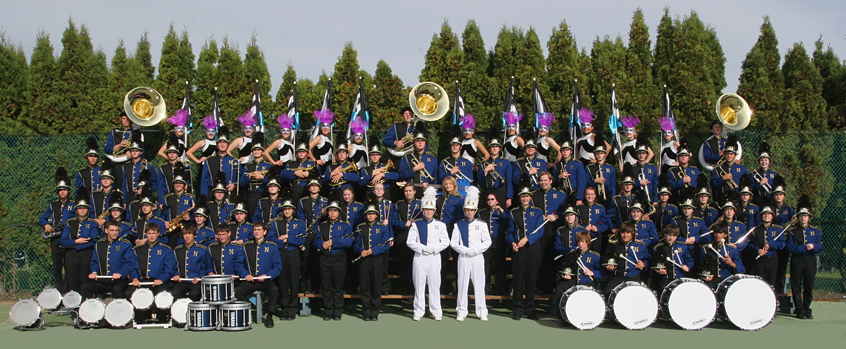 Naches Valley High School
Naches Valley School District
Naches , Washington
A Division
Ranger Marching Band
10:15 AM


Jeremy Freisz, Band Director

Show Title: Fiddler on the Roof Music arranged by: Michael Brown Drill Design by: David Cook
Set in a small Jewish village in Russia, 'Fiddler on the Roof' displays a fun and intriguing story of tradition, life, and romance.

Dani Mansfield Color Guard Instructor
Jamie Beckman Drumline Instructor
Hannah Davidson Senior Drum Major
Larisa Fossum Junior Drum Major
Mylisa McGill Color Guard Captain
Ellye Main Color Guard Captain
Tyler Mills Drumline Captain





---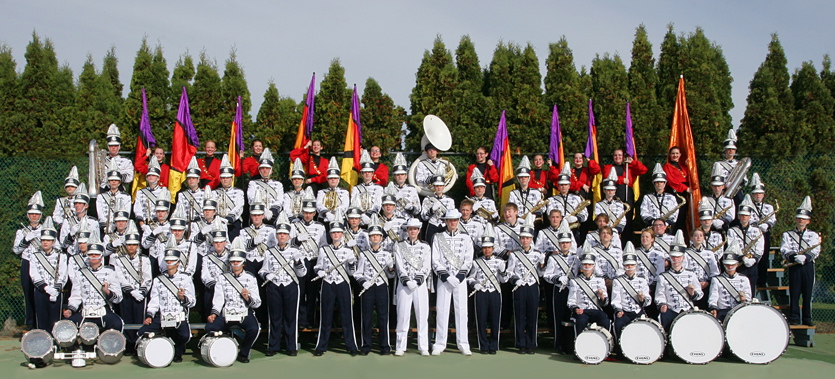 Sultan High School
Sultan School District
Sultan, Washington
A Division
Sultan High School "Turk" Marching Band
10:30 AM


Jill Sumpter, Band Director

The members of the Sultan High School "Turk" Marching Band will be performing music from the Beatles, including "Eleanor Rigby", "Drive My Car", "Hey Jude",and "Sgt. Pepper's Lonely Heart's Club Band". The band is under the direction of Jill Sumpter and Brian McNaughton. Drum majors are Christy Schmidt and Johanna Helm. Color Guard Captain is Rachel Whitbeck.

The marching band has won the Sweepstakes Award at the Wenatchee Apple Blossom Parade for the last two years, place at the Victoria Days Parade, and consistently place in both the fall field show and spring parade seasons.

The band would like to thank the Sultan Music Parents for all that they do.



---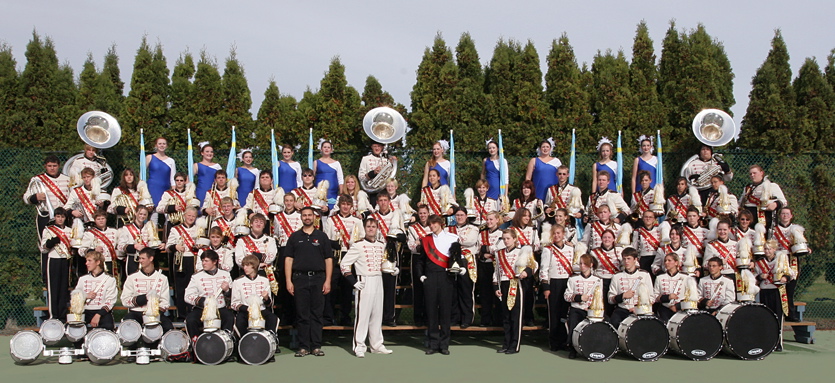 Clarkston High School
Clarkston School District
Clarkston, Washington
AA Division
Pride of Clarkston Marching Band and Color Guard
11:00 AM


Bill Legg, Band Director

The 2009-10 program is titled The Jazz Police. The musical selections include Gordon Goodwin's Jazz Police, Chuck Mangione's Land of Make Believe, and closes with Robert W. Smith's arrangement of Big Noise From Winnetka. The Pride is under the direction of Bill Legg. Assistant director is Nate Barham, percussion instructor is Shawn Smith, marching instructors are Matt Halley, and Jarred Pratt. Color guard instructors are Michele Slaybaugh, and Alaina Swearingen. Brass assistant is Ed King. Drum majors are Cody Swearingen, and Michael Dolezal, and Guard captains are Tori Mustello, and Abby Brotnov. Drill Design is by Keith Weatherwax. The Pride place 2nd in the AA division at last year's Harvest marching band competition, and 2nd in the AA division at last year's Cavalcade of Bands in Pasco. The Pride will conclude their 2009 season at the Auburn Veteran's day parade a field show competition Saturday november 7th. The Jazz Police is a cops and robbers theme with music in reverse chronological order.



---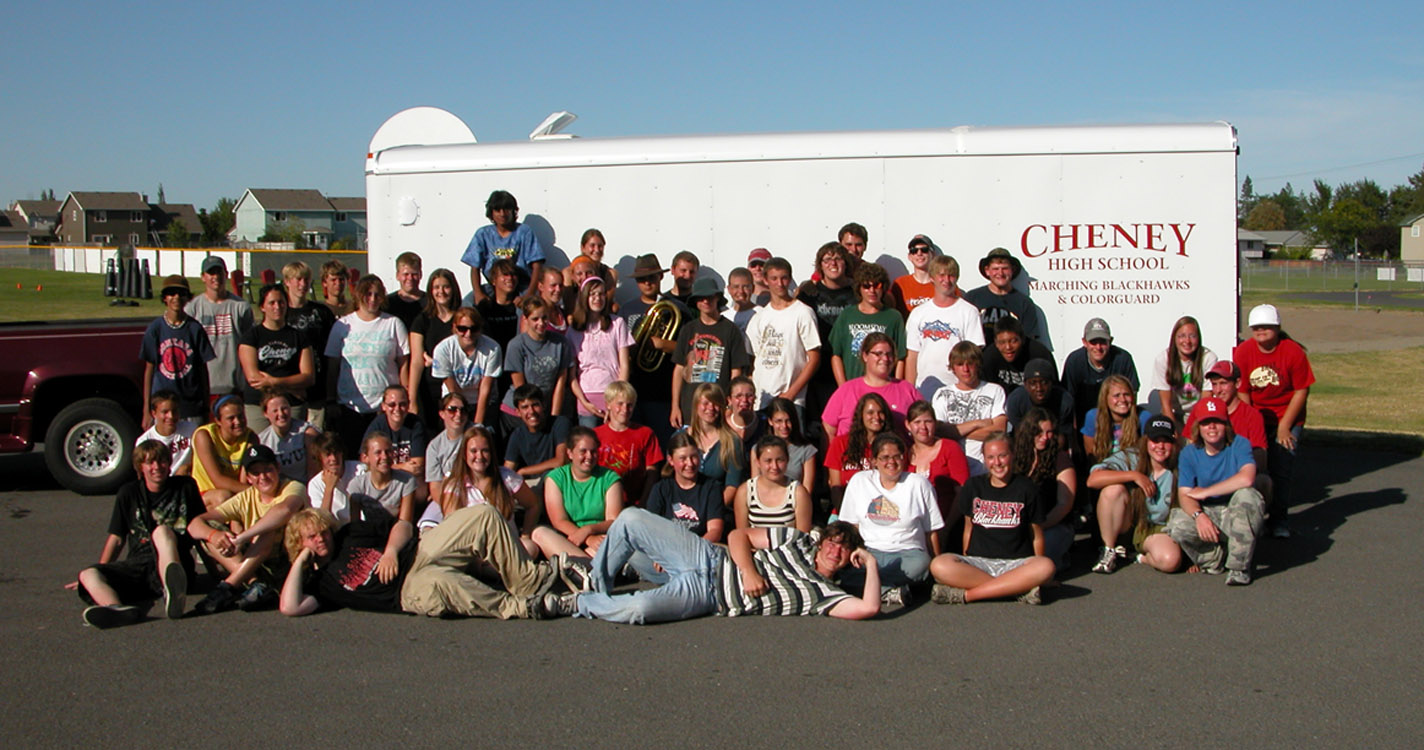 Cheney High School
Cheney School District
Cheney ,
AA Division
Cheney High School Marching Band
11:15 AM


Mike Suhling, Band Director

The Cheney High School Marching Band is proud to present original music written by Gary Gilroy titled The Artist. The three movement show depicts the creative process of the painter, the dancer, and the musician.

The CHS Marching Band place first in the AA Division of the 2008 Cavalcade of Bands and received best brass and winds, best color guard, and best general effect captions. The group also placed first in their division at the 2008 Pacific NW Championships at Joe Albi in Spokane receiving best brass and winds, best color guard, best marching, and best general effect captions.

The instructing staff and members of the group would like to thank all the parents for their support in another successful season.

Director: Mike Suhling
Assistant Director: Rich Sonemaker
Band Assistant: John Smith
Percussion Instruction: Chris Newbury
Color Guard Instruction: Heather Petro, Heather Wisswell, and Keesha Sonemaker
Drill Design: Russ Newbury
Drum Majors: Emily Clark and Nick Stevens



---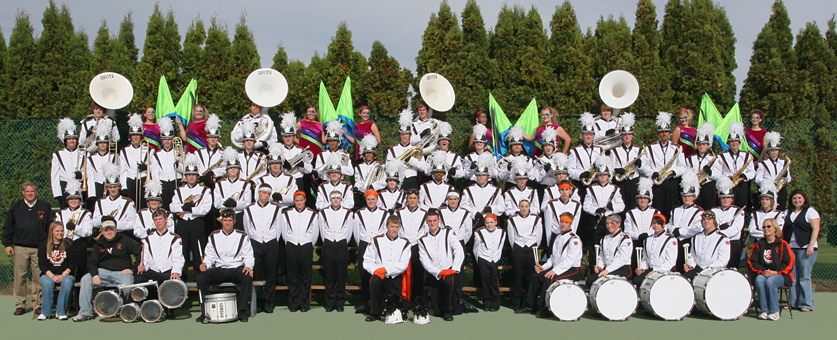 West Valley High School (Spokane)
West Valley School District
Spokane, Washington
AA Division
"Eagle" Marching Band
11:30 AM


Jim Loucks, Band Director

Band Staff:

Lorie Alsperger (Color Guard Instructor)
Ashley Bell (Marching Instructor)
Kyle Bosch (Drill Design/Instructor)
Ron LaPlante (High Brass Instructor)
Krystal McCarthy (Drumline Instructor)
Jim Marshall (Low Brass Instructor)
Amanda Weiss (Woodwind Instructor)

Captains:

Corey King/Eric Heale (Drum Line)
Ashley Trinkle/Brittany Walker (Color Guard)

Drum Majors:

Beth Anderson/Josh Roderick

Band Booster President:

Sam Roderick

PIRATES OF THE CARIBBEAN
Part One (Fog Bound/The Medallion Calls/The Black Pearl)
Part Two (Blood Ritual/To the Pirate's Cave)
Part Three (One Last Shot/He's a Pirate)

Music by Klaus Badelt
Arranged by Michael Brown
Percussion by Andrew Craig, Eric Heale and Corey King
Percussion feature by Eric Heale and Corey King



---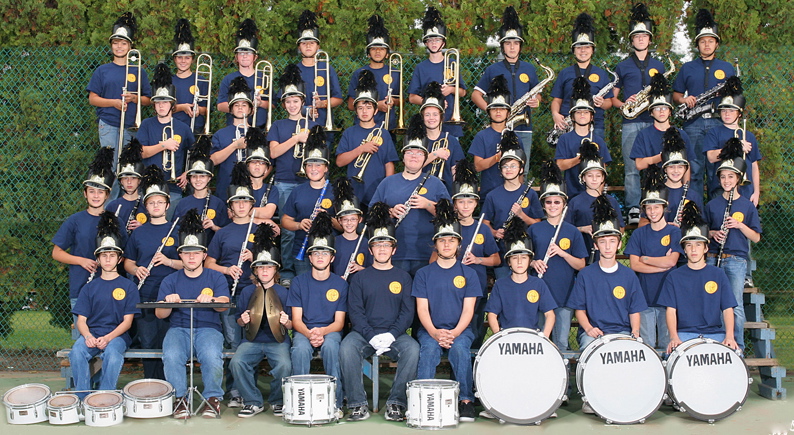 Naches Valley Middle School
Naches Valley School District
Naches , Washington
Novice Division
Knight Marching Band
11:45 AM


Jeremy Freisz, Band Director

Show theme: James bond

Music: James bond theme

Drum Major-Lynnae GUTIERREZ-HOLTEY

Color Guard Instructor-Mylisa McGill



---





Eisenhower High School
Yakima School District
Yakima, Washington
Exhibition Division
Eisenhower Cadet Marching Band
1:00 PM


Dave Walter, Band Director

Band Director: Dave Walter
Color Guard Coach and Instructor: Rhonda La Caille
Drill Instruction and Design: Brian Bailie
Color Guard Choreography and Instruction: Teena Bailie
Drum Line Instructor: John Johnson
Marching Instructor: Stephen Pickard

Drum Majors: Darion Roth and Joey Keeton
Drum Line Captain: Rosa Flores

The Eisenhower Cadet Marching Band and Color Guard are incredibly excited to welcome all of the performing groups to the 9th Annual Harvest Marching Band Competition.

This year's show "Earth Wind and Fire" has been a truly enjoyable and educational experience for our students. We hope you will enjoy the four pieces: "In the Stone," "After the Love is Gone," "Getaway" and "September."

The Ike instrumental music department will be traveling to Orlando Florida this spring for a fun-packed musical experience. The band has traveled extensively in the past with trips to England, Italy, New York, B.C., and California.

The band and color guard applaud the Ike Band Parent Organization: President Rick Pettyjohn, Vice President Tracy Jones, Treasurer Edna Pettyjohn, Secretary Shauna Heilman, and all of the other parent volunteers. We also acknowledge our fantastic principal Stacy Locke and the vice principal of the band and orchestra Jim Wright for their ongoing support.

Together students, parents and school staff make our program what it is!




---





A.C. Davis High School
Yakima School District
Yakima, Washington
Exhibition Division
Buccaneer Marching Band and Color Guard
1:15 PM


Scott Goranson, Band Director

The Buccaneer Marching Band from A.C. Davis High School is directed by Scott Goranson. Assistant directors are Mike Helseth and Matt Larsen. Pit instructor is Aaron Julyan, woodwind and brass instructors are Jenny Ohrstrom and Erich Mietenkorte. Color Guard captain is Lindsey Sullivan. Trumpet soloists are Eddie Torres and Jesus Covarrubias. Drum Majors are Riley Luvaas and Lucas Padilla

The Band is pleased to present its 2009 program, entitled Danza Del Fuego. The show's music and drill was composed by Russ Newbury. Percussion score by Chris Newbury.

The Buccaneer Band members, staff and boosters would like to thank Kris Siebel, District Arts Coordinator for her outstanding support this year. The band would also like to thank the countless hours invested by the Buccaneer Band Boosters and the Harvest Marching Festival Staff. Without their continued support this program would not be possible. A.C. Davis High School is also proud to co-host the 9th Annual Harvest Band Festival and would like to thank you for supporting the thousands of high school musicians performing today.



---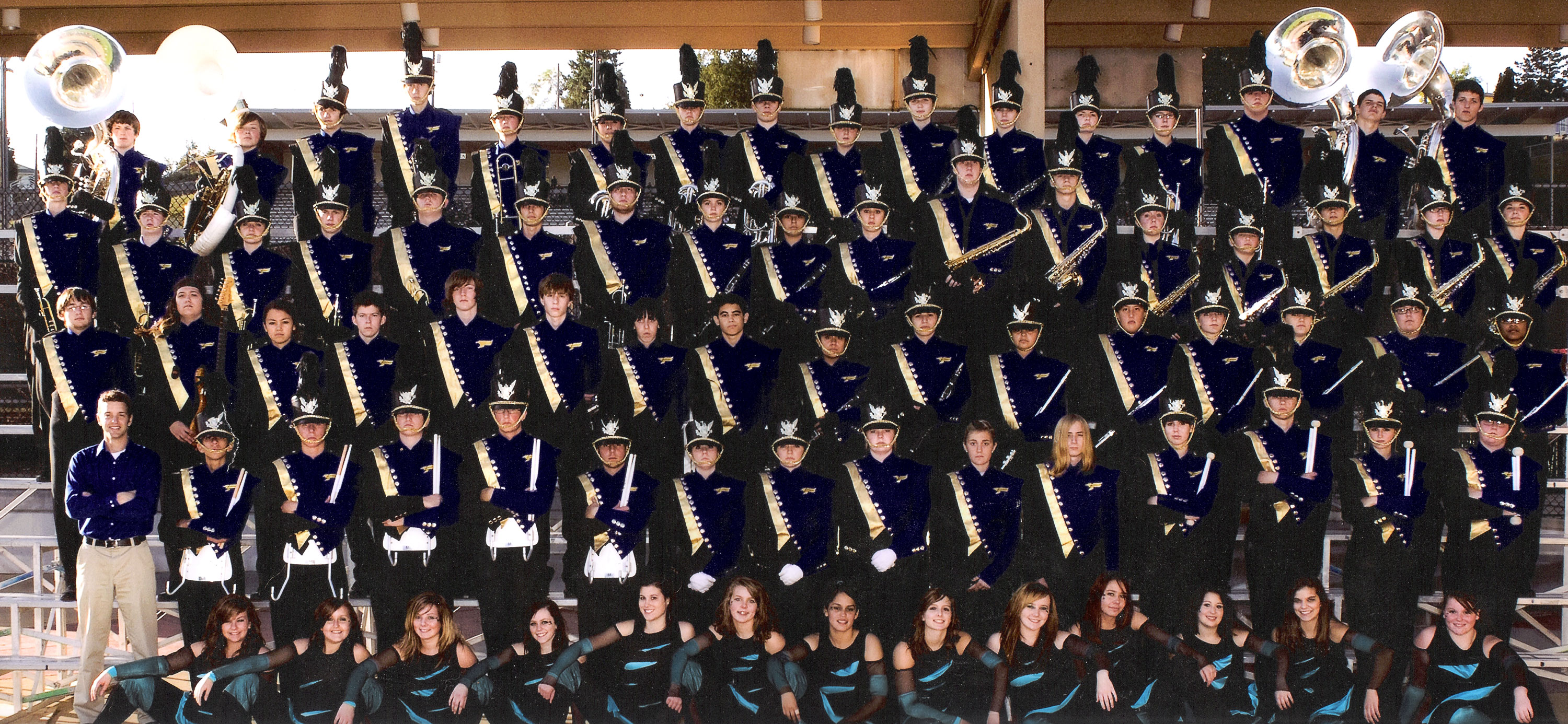 Ferndale High School
Ferndale School District
Ferndale, Washington
AAA-S Division
Ferndale High School Marching Band
1:30 PM


Steve Menefee, Band Director

Name: Ferndale Marching Band

Director: Steve Menefee

Percussion: David Vaughns

Music Arrangement: Lewis Norfleet

Drill Design: Chris Cantrell

Marching: Harrison Jones

Auxiliary: Wendy Lynch, Bryn Lamphiear

Drum Majors: Kayla Christiansen, Chris Morgan

Members: 75

The Ferndale High School Marching Band is looking to test the speed limits with this years 2009 Production featuring the music of "Rush". Taken from their popular album "Moving Pictures" you will hear Camera Eye, YYZ, Red Barchetta and Tom Sawyer.

In recent years the band has placed 1st at the 2006 Tumwater Marching Championships, and has been crowned champions of their class at the Auburn Marching Band Festival in both 2005, 2006, 2007 and 2008. The most recently traveled to Southern California for the Disney Magic Music Days festival last May. We are very grateful to be performing at the Peninsula Classic for the first time. We hope you enjoy our show!




---




Richland High School
Richland School District
Richland, Washington
AAA-S Division
Bomber Band
1:45 PM


Jason Rose, Band Director

The Richland High School Bomber Marching Band, under the direction of Jason Rose and the leadership of Drum Majors Nick Prior and Zach Hillebrant and Color Guard Captain Corrin Bogenreif, is proud to present their 2009 show Celestial Journeys. Celestial Journeys is a trip through space and time that begins with a haunting melody that explodes into a fierce race through the stars and concludes with a wild ride through outer space!

The music was composed by Gary P. Gilroy. Show design is by Kary Etherington. Percussion arrangements are by Christopher Cree. Choreography by Mindy Krejci. Assistant director is Annie Weldon. Percussion Instructor is Erik Peterson. Color Guard coaches are Jill Clark and Cheyanne South.



---





Pasco High School
Pasco School District
Pasco, Washington
AAA-S Division
Pasco High School Marching Band
2:00 PM


Randy Bjur, Band Director

Drum Majors: Stephanie Olson, Brett Moe
Guard Captains: Heidi Dickenson, Amanda Davis
Assistant Director: John Nelson
Winds and Percussion staff: Junior Ayala, Matt Henderson, John Owen, Chris Newbury
Visual Staff: Russ Newbury, Rudy Guidry
Guard Staff: Loralee Newbury, Anna Newbury

Show Title: Riverdance
Music by Bill Whelan, arr Tom Wallace and Tony McCutchen




---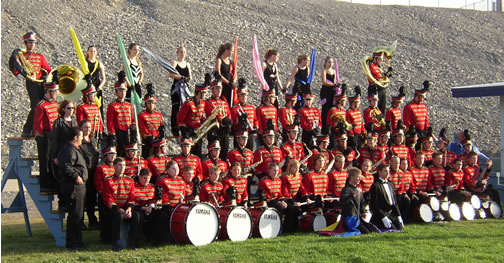 Kamiakin High School
Kennewick School District
Kennewick, Washington
AAA-S Division
Scarlet Tide Marching Band
2:15 PM


Keith Russell, Band Director

The 2009 "Scarlet Tide" Marching Band

Under the field direction of Drum Majors
Peter DeFord and Kimber Hayden

This year's band of 63 members includes:
9 Color Guard, 10 Drum Line, 9 Front Percussion, 15 Woodwinds, 18 Brass, and 2 Drum Majors.

The band is under the direction of:
Keith Russell, Director
Jay Colgan, Percussion Advisor
"Pit" Percussion Advisor: Amanda Harwerth
Jeff and Peter Chambers, Percussion Assistants
Kristin Phillips, Color Guard Advisor
Jeremy Bennett, Woodwind and Visual Instructor
Drill Design and Visual Consultation: Kelly Silvester
Erin Arnold, Band Manager


The 2009 "Scarlet Tide" presents:
GO!
A musical chase composed by Jeff Chambers.

This year's show music reflects the speed, intensity, and pace of our daily lives.
The performance field is our life's roadway, replete with traffic signs, detours, and barricades
Negotiating the frantic, confusing, and frustrating paths quite often gives way to
Fun and Exhilaration.
ENJOY IT!

The "Scarlet Tide" would like to thank the Kamiakin Instrumental Music Boosters, Fans, and School Administration for their support! - Keeping the opportunity to express, create and communicate a strong component of our school experience.

Special Thanks to
Tri-City Sign and Barricade
For the use of the traffic signs and barricades

Additional thanks to the following organizations for their donations on behalf of our program:
The Hair Chateau
Blue Moose Tees
First United Methodist Church




---





Bonney Lake High School
Sumner School District
Bonney Lake, Washington
AAA-S Division
Panther Marching Band
2:30 PM


Don Neptun, Band Director

The Panther Marching Band is proud to present their 2009 program titled "The Truest Expression: Dance & Music".

This year's show features three different styles of dance and music: Modern dance, the Tango, and Latin dance.

Musical selections to be performed are:
- "Dead Already" (from the American Beauty soundtrack) by Thomas Newman
- "Por Una Cabeza" by Carlos Gardel
- "Serjyo" by Bago.


2009 Panther Marching Band Staff:

Drum Majors: Karlie Pyl & Jake Barrows
Band Director: Don Neptun
Color Guard Instructor: Teena Bailie
Music & Drill Design: Don Neptun
Color Guard Design: Teena Bailie



---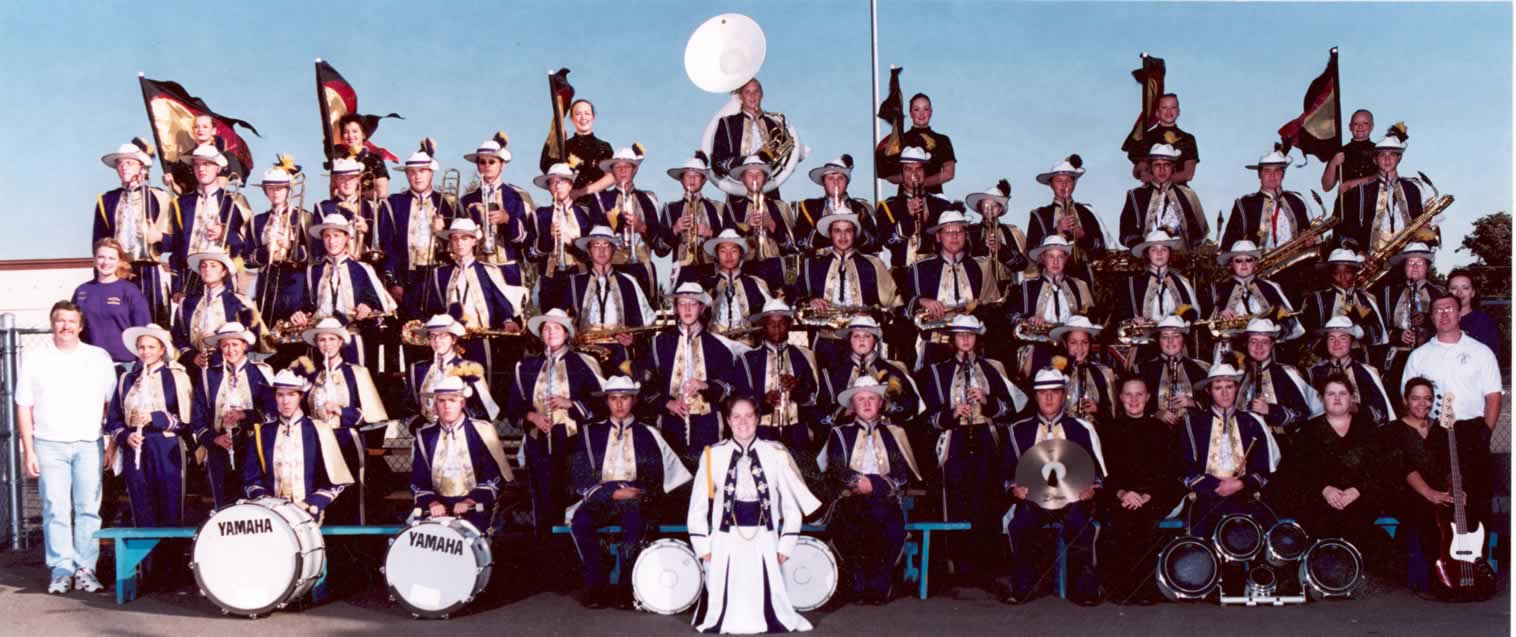 Hanford High School
Richland School District
Richland, Washington
AAA-S Division
Falcon Marching Band
2:45 PM


Kevin Swisher, Band Director

Harlem Nocturn by Earle Hagen, Flyin Home by Benny Goodman arr. Lionel Hampton, Guaguanco by Arturo Sandoval, and Fire Dance by Allen Vizzutti


Kevin Swisher - Director
Mike Bryan - Assistant Director and Music Arranger
Kristin Swisher - Color Guard Coach and Drill Writer
Josh Peterson - Percussion Coach and Percussion Writer
Anna Newbury - Color Guard Choreographer
Chuck Naffier - Music Arranger
Paul Lack - Front Ensemble Arranger
Thompson Vou - Visual Staff
Spencer Blake - Horn Staff,
Cecil Qiu - Percussion Staff
Peter Scuito - Camp Staff
Amy Scuito - Camp Staff
Adam Hancock - Camp Staff, Nick Rice - Camp Staff
Matt Larsen - Camp Percussion Staff
Chase Waller - Camp Percussion Staff

Drum Majors: Sara Deibler and Stephen Grindel

The Hanford High Band Program is developing a tradition of excellence in all areas, Marching, Jazz, Concert Ensembles, and Small Ensembles. They have placed in finals competition at Cavalcade over 5 years in row winning many caption awards. Last year, at the Puget Sound Festival of Bands in Everette, WA, the band placed 4th overall and received their highest score in school history. The band will be traveling to St. George, Utah this November to compete in the 2009 Bands of America Western Regional Competition.


Late Night Jazz
The Hanford High School Marching Band and Color Guard 2009 marching show is a collaboration of four different jazz genres. First, imagine yourself walking through Tim Pan Alley around 10pm in New York in the 1920's. From the street, you hear several different renditions of Harlem Nocturne. Soaring to several decades later, you hear Lionel Hampton and his band closing another set with their famous swing chart, Flyin' Home. The Beautiful ballad that features Ben Whiting on the Bari Saxophone was originally a trumpet solo written by Cuban artist Arturo Sandoval. As the band supports the melody, they stretch across the field subtly hinting at the world influences of the jazz era. Finally, the show comes to a Festive Finish in a Latin style, showing how the world has influenced the jazz culture.



---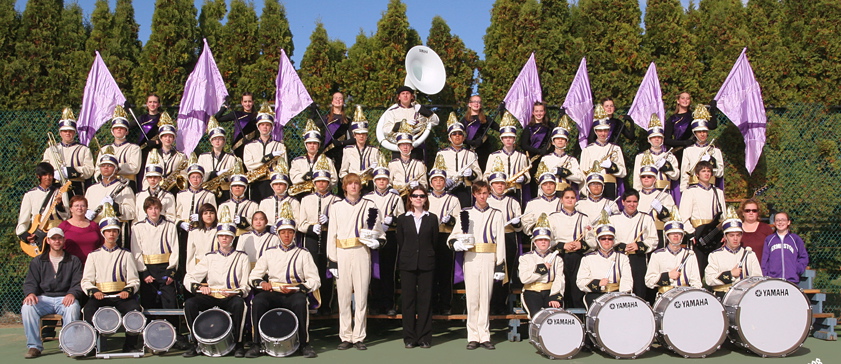 Hermiston High School
Hermiston School District
Hermiston, Oregon
AAA-S Division
Hermiston High School Marching Band
3:00 PM


Kim Walker, Band Director

The Hermiston High School Band Program has a long history of excellence. Accomplishments include performing in the 105th Tournament of Roses Parade in Pasadena, California in 1994, traveling to Europe on a music tour in the mid 1990's, achieving high scores in marching band, jazz band, and Wind Ensemble over the past 20 years, and maintaining a constant presence within the Hermiston Community. Recent accomplishments include the growth of the Hermiston High School marching band (we've tripled in size since 2007), the inclusion of a front ensemble in 2008, the purchase of a brand new trailer for marching band in 2008, and a 3rd place standing in the 2008 Auburn Veteran's Day Parade in our division. Other achievements include the 2009 HHS Wind Ensemble achieving state qualifying scores at the OMEA District VI Large Group Festival, and the HHS Jazz Band achieving 5-10 points higher compared to last year's scores at the same two festivals. Our band students achieved the highest GPA in our 5A division compared to all of the other band students in the 5A division in the state of Oregon.

Today's performance features excerpts from the band's 2009 competitive season show, 'Star Trek: Through the Generations'. The band will perform three movements-- movement I: "Beginnings", and movement II: "Journey", closing with movement III: "Finale". The 2009 HHS marching band is 81 members strong and is excited to perform their field show for you today.



---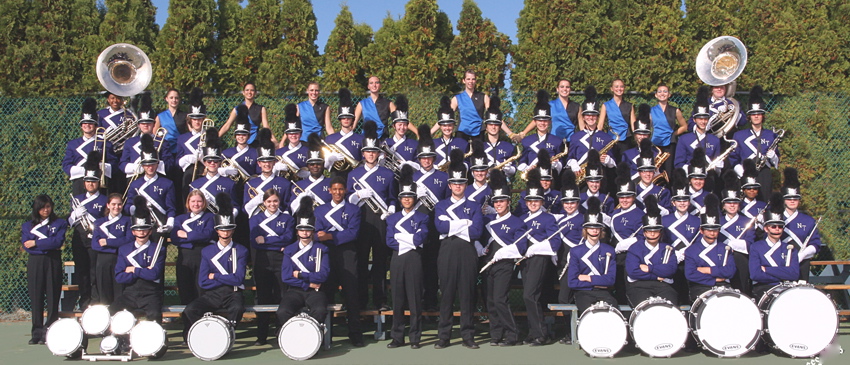 North Thurston High School
North Thurston Public Schools
Lacey, Washington
AAA-S Division
NTHS Marching Band
3:30 PM


Darren Johnson, Band Director

NORTH THURSTON HIGH SCHOOL
SHOW TITLE
Believe

MUSICAL SELECTIONS
Believe - musical selections from James Newton Howard
Mvmt. 1
Mvmt. 2
Mvmt. 3
Mvmt. 4
Mvmt. 5
Mvmt. 6

Music arranged by Darren Johnson

Drum Majors
Lauren Johnson
Ali Kamenz

Guard Captain
Tessa Churchill

Staff
Darlene Jones, percussion
Thomas Mettler, marching
Andrew Brown, marching
David Wilson, guard and visual

Biography Information
North Thurston High School is proud of its two superior concert bands and award-winning jazz ensemble. Members of the band regularly appear at All-Northwest, All-State, and the State Solo and Ensemble Contest. Last year the NTHS Band traveled to Poland and the Czech Republic, performing for members of the U.S. Embassy and the community of Minsk-Mazowiecki.

The marching band has competed in finals at the NMMBC Fall Preview, the Sunset Classic, the Northwest Marching Band Championships, and the University of Oregon's Festival of Bands. The band has captured first place in the A division at the Auburn Veteran's Day Marching Competition and the Peninsula Classic earning caption awards for best music, marching, general effect, percussion, and drum majors.

The NTHS Band would like to thank their parents for their tremendous support. Thanks also to John Andersen and Terry Andersen Trucking for their dedication and service to the NTHS Band program.




---





Kennewick High School
Kennewick School District
Kennewick, Washington
AAA-L Division
Pride of the Columbia Empire
3:45 PM


Brent Steinert, Band Director

Kennewick "Pride of the Lions" Marching Band
Kennewick High
Kennewick, WA
2009 - Bamboo

Tonight they will perform their 2009 Marching show entitled "Bamboo!
This show explores an oriental setting simulating the sounds and senses as found in a rainforest.
Their three movements are titled: Grasses, Rain Showers, and the Rainforest Canopy.
Their soloists tonight are: Eric Reynolds (Trumpet) and Joseph Szendre (Mellophone)

DIRECTOR
Brent Steinert

ASSISTANT DIRECTOR
Lance Muskett

PERCUSSION INSTRUCTORS
Christopher Cree and Josh Peterson

COLOR GUARD INSTRUCTOR
Enid Flynn

COLOR GUARD CHOREOGRAPHY
Teena Bailey

DRILL DESIGN
Kary Etherington

DRUM MAJORS
Benjamin Hodges and Kathryn Chavez


Division: AAA-S
Band Size: 88
School Colors: Orange and Black
Show Title: Bamboo
Grasses
Rain Showers
Canopy




---





West Valley High School (Yakima)
West Valley School District
Yakima, Washington
AAA-L Division
Ram Marching Band
4:00 PM


Ron Gerhardstein and Maddy Banahene, Band Director

The West Valley High School Ram Marching Band is co-directed by Ron Gerhardstein and Madelyn Banahene. The high school instrumental music program includes wind ensemble, concert band, two jazz ensembles, marching band, pep band, and beginning guitar. Additional staff for the Ram Marching Band includes Lori Holtey – guard instructor; Susan Gleeson and Susan Jacobson – guard assistants; Brian Adams, Brit Dahlgrin, and Mike Dove – percussion; Nick Benson - visual design; Chris Thomas and Erica Buege – visual instructors; Jeremy Allgaier, Erik Curley, and A.J. Melcher – brass and woodwinds. Our 2009 field show Chaos Theory is composed by Alex Yoder with percussion by Chad Gay. The show has three movements titled Random Conditions, The Butterfly Effect, and Eventual Order. West Valley High School ensembles traditionally have earned high ratings at adjudication festivals and competitive events in and around the Pacific Northwest region in all aspects of the band program. Recent awards for the marching band include 1st place AA division at the Northwest Marching Championships (2006), 6th place overall at the South-Eastern Washington Cavalcade of Bands (2008), 1st place AAA-Large division at the Harvest Marching Festival (2007), and 2nd place AAA-Large division at the Harvest Marching Festival (2008). The members of the Ram Band would like to thank all of our parent boosters and volunteers for their time and support of our band program, and to the West Valley community for their ongoing encouragement.



---





Shelton High School
Shelton School District
Shelton, Washington
AAA-S Division
Highclimber Marching Band
4:15 PM


Chris Ward, Band Director

Shelton High School Highclimber Marching Band

"Firebird"

Director: Chris Ward
Percussion Instructor: Keith Mitchell
Guard Instructor: Tyler Elizabeth Mclain, Tim Donnell, and Kaira Hoag
Drill Design: Mitch DeGrace
Choreography: Mandi Johnson
Additional Assistance: Jim Johnson and Jeremy Freisz
Drum Majors: Jaime Carlson and Colette Kinder
Band Members: 80

The Shelton High School Highclimber marching band is proud to present its show "Firebird." We hope you enjoy the performance!

We would like to thank our band booster group, the administration and community for their continued support.



---